Why every manufacturer should have a Tobacco Reclaimer Machine!
Emaan January 20, 2020 No Comments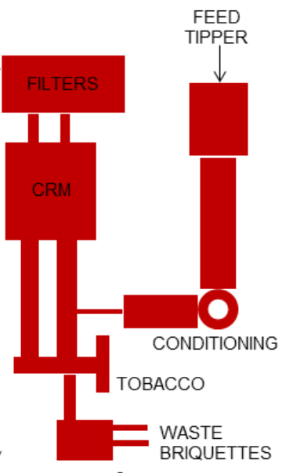 High yield with low degradation
Very low paper count in recovered tobacco
No adjustment of machine settings required
No consumables or knives used
Low maintenance
Low noise and dust emissions
Robust & reliable construction
Improved sieving conveyor design for reduced contamination risk
More consistent Metering Feed Section
Pre-Sieving loose tobacco before processing
Large Filters to prevent dust build up and blockages
New filtration media to further reduce dust emissions
Click here to view multiple solutions for Tobacco Cigarette Reclaimer 
The Reclaim Process
1. Reject product is fed either manually, or by Tipper Unit, into the bulking section at the bottom of an Elevating Band Conveyor. The elevator transports the product at a controlled rate to the Conditioning section.
2. At the Conditioning stage, the product is fed into a steaming tube. This process ensures that the cigarettes are at an optimum moisture & temperature level, making the tobacco easy to separate from the packaging whilst minimizing potential degradation.
3. The conditioned product is then discharged onto a Metering unit, to give a constant flow of cigarettes to the Reclaiming Section at the required throughput rate.
4. The Opening process has 2 stages to maximize the tobacco recovery yield. Each stage makes use of a unique pneumatic transport system to loosen and remove the tobacco filler from the cigarette papers, filters, and packaging.
5. The product then travels over a vibratory sieve, which separates the loose tobacco from the papers, taking the reclaimed tobacco to a collection station.
6. Any small paper pieces in the tobacco are removed by suction nozzles.
7. Dust from the pneumatic systems is collected in Filter Units, whilst papers, plugs and other waste is collected in bins or processed in a Briquetting Machine.
(source: https://www.comasitaly.com/en/machinery-plants/tobacco-reclaiming/tobacco-reclaiming)