CAT C7 Engines: Applications, Replacement Options and Parts
Hizbullah Shoukat July 15, 2021 No Comments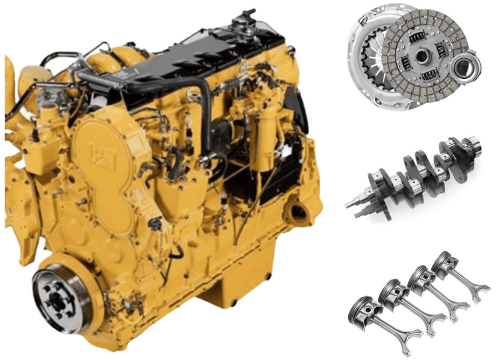 The Cat C7 Engine has a minimum power output of 168.0 bkW, and maximum power output of 224.0 bkW along with a rated speed of 1800-2200 rpm. The production of the Caterpillar C7 engine lasted from 2003 – 2009 which saw it installed predominantly in medium duty class 8 trucks. Notable trucking companies in the industry all invested in the Cat C7, optimistic that it would live up to what they had heard.
However, unfortunately the Caterpillar C7 was hit by the harsher tier 4 emissions that took effect from 2004, when the C7 had only been released the previous year. Cat's C7 engine also had a few problems, namely it has a B50 rating of 450,000 – 50,000 miles. Therefore, around half of the Cat C7 engines experienced engine failures at 500,000 miles and needed an overhaul. However, this does not differ much from some other diesel engines.
Engine Applications and Uses
Box Trucks
Tow Trucks
Day Cabs
Straight Trucks
COMMON CAT C7 ENGINE PROBLEMS & FAILURES
When engines go wrong, some are fixable and some are just not worth the time and money, subsequently meaning the engine is simply no more. After 40 years of experience, we managed to pinpoint themes from people who were looking to replace their C7's. Listed below are some common issues we hear from these customers.
Spun Crankshaft Bearings
Scored Pistons and Liners
Over Fueling
Lifter/Roller Failure
Lack of oil or oil pressure
Crankshaft Failure
Cracked Cylinder Head(s)
Connecting Rod Failure
Extreme Blow By
Dropped Valves
Camshaft Failure
CATERPILLAR C7 ENGINE REPLACEMENT OPTIONS
Unfortunately, there is a real range of issues that can immobilize your engine. Some instances mean that your only option is to replace it. However, sometimes you may just need a few more parts to bring it back to life, or maybe, the engine needs a well-deserved refreshment. Each instance is unique and differs from the next.  Of course, cost, time, and availability will dictate your decision making so let us inform you of the pro's and con's of a new engine from the dealer.
Remanufacturing Process
If someone is unfortunate enough to observe their engine endure a serious internal failure but is lucky enough to be able to actually re-use some of their external components…a remanufactured C7 long block is a good way to go. Additionally, a long block is also perfect if your hoping to keep to a budget.
To achieve this, our team of experienced machinists and engine builders will do a full core tear down, cleaning, inspection, and machining of the engine before it leaves our facility, this ensures every engine is in good condition every single time.
However, it is important to point out that all of our Cat C7 engines remanufactured long blocks are built with a mixture of both reman and new parts. We do not recondition or refurbish old engine parts, instead, we completely rebuild the old Caterpillar C7 engine back to its OEM specs.
THOROUGH CLEANING
Obviously, we aim to avoid the early demise of both parts and the Cat C7 itself, therefore we remove all impurities by stripping the blocks, heads, rods and camshafts which are then thoroughly cleaned in a chemical jet wash or hot tank. This ensures good quality from the beginning of our process; in the hope you don't have to come back to us.
CRANKSHAFTS
Crankshafts are precision machined to exact tolerances, polished & magnafluxed, then thoroughly inspected by our quality control department.
 CYLINDER HEADS
To guarantee a proper sealing surface with the block, and to achieve a finish compatible with recent gasket materials, the heads are resurfaced. Valve height is mic-d and every head is vacuum tested to assure correct valve seating.
CYLINDER BLOCKS
We use magnetic particle to thoroughly inspect the blocks for any cracks or damage. To ensure the avoidance of cylinder head distortion after the head is bolted and torqued to the block, the cylinder heads are bored and honed to precise tolerances. In turn, this eliminates a cause of engine blow-by. Block surfaces are machined and then inspected to ensure proper finish.
CAMSHAFTS
Camshafts are inspected and precisely machined to provide correct lift. Lobs are measured with a micrometer to make sure OEM tolerances are met.
CONNECTING RODS
New bushings are fitted and machined in all bushed rods. Every rod is then carefully inspected for bend and twist. Connecting rods are cleaned, then machined to O.E.M. specifications and honed to the standard diameter of original equipment for even distribution of stress on the bearings.
NEW PARTS
New parts such as pistons and rings, bearings, gaskets and seals, and liners are all brand new as standard for our Cat C7 long block engines. These new parts will ensure dependable performance and reliability throughout the life of your engine. The new parts are a combination of both OEM and Aftermarket when available.