Get a Instant Quote
Our technical team will answer any questions about your customised request. We provide genuine John Deere parts ready to ship from warehouse hubs and technical support and after service support
FAQs
IZIPART is your one stop shop for a complete range of OEM and aftermarket Komatsu Equipment and parts . Parts and engines for construction, mining and utility Komatsu equipment― the most in-demand products are always in stock. Our technicians will also be available to guide you with any queries or questions.
Yes there are various options available.

You may return your existing diesel engine core or parts to us and we will replace the required components/parts and return the reconditioned engine back to you.  

We can provide parts for the model of the Komatsu heavy equipment that is in use by retrieving info for the model year, number and specifics 
The engine range covers quality parts suitable for the following:- 95, 102, 105, 108, 110, 114, 125, 130, 140, 155, 170 and Komatsu versions of the Cummins NH220 and NT855. All parts are fully interchangeable with OEM.

.

In addition to the Komatsu items listed on our Industrial Engine Marketplace, we can source others upon request. If the part you need isn't shown, ask us to find it for you.
Yes, we can provide Komatsu Industrial Engines parts including parts such as Pistons, Ring sets, Crankshafts, Camshafts, Oil and Water Pumps, Injectors, Gaskets, Seals, and more for Komatsu New/Reconditioned Diesel Engines & Parts.

New, genuine and reconditioned spare parts are available.
We can serve your requests VIA the our supplier in the closest region. Our part availability varies. However, we receive multiple quotes via our suppliers and send you the best options in terms of price, availability and quality
Komatsu diesel engines spare parts and equipment can be found in various machinery equipment. These would include: Backhoes, Dozers, Dump trucks, Excavators, Forklifts, Mobile cranes, Pavers, Road construction equipment, Tractor unit for ports and distribution centres.
We provide the parts and engines for these equipments.
We provide parts, components and Engines for heavy equipment and earth moving machinery used in the Construction Industry, Agriculture Industry and Trucking & Bus.

Our product categories include:-
Industrial Diesel Engines (New, Used, Reconditioned/Remanufactured, Long Block Engines, Short Block Engines)

Parts (Cylinder Heads & Blocks, Crankshafts, fuel system, turbo, cooling system, piston, bearings, gaskets, belts, filters, discs and more.)

Small Parts (Wipers, Piston Seals, Rod Seals, Rotary Seals, Pneumatic seals, Guide rings, Back Up rings and more.)

Consumables (full range of Cummins Filtration Products – 'Fleetguard')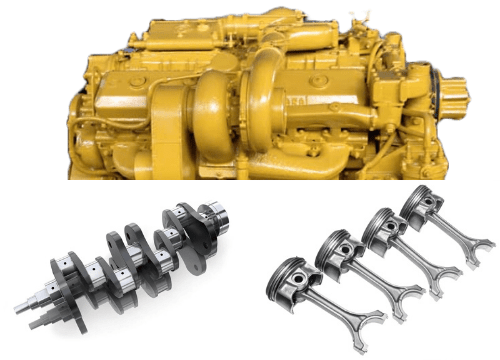 Komatsu Industrial diesel New/Reconditioned engines parts and equipment have a wide range of direct replacement starters, alternators, water pumps, generators and other Diesel Engines parts for Komatsu construction and mining equipment.
Komatsu Replacement parts

Komatsu Excavator Parts

Used Komatsu parts

Second hand Komatsu Equipment and parts

Komatsu Construction and Mining Equipment
Piston Rings

Crankshafts

Cylinder heads

Bearing

Oil and Water pumps

Coolers

Turbochargers

Manifolds

Drive belts

Gasket sets
BLOG
What's trending within Industrial Manufacturing Industries?
November 30, 2021
6 Cylinder The 6 cylinder option in the Perkins® 1100 Series, the 1106 range, delivers the power you need for earth moving and construction all the way through to agricultural use and warehousing. Engines in the range meet EU Stage...