VOLVO Engine & Engine Spare parts
PARTS FOR MARINE AND INDUSTRIAL VOLVO PENTA NEW USED & RECONDITIONED ENGINES
Get a Free Quote
Our technical team will answer any questions about your customised request.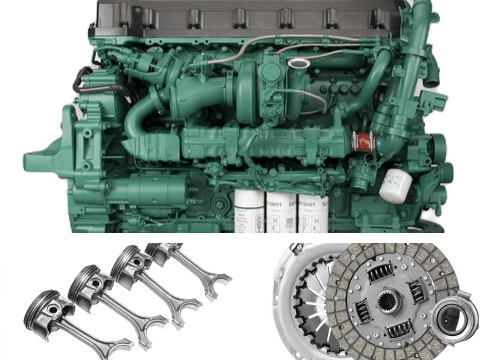 Volvo Industrial diesel New/Reconditioned engines parts and equipment have a wide range of direct replacement starters, alternators, water pumps, generators and other Diesel Engines parts
VOLVO ENGINES

VOLVO FUEL SYSTEM

VOLVO PUMPS

VOVLO ELECTRICAL SYSTEM

VOLVO SENSING DEVICES

VOLVO REPAIR KITS

VOLVO PENTA MARINE ENGINES

VOLVO HEAVY TRUCKS ENGINES
Piston Rings

Crankshafts

Cylinder heads

Bearing

Oil and Water pumps

Coolers

Turbochargers

Manifolds

Drive belts

Gasket sets
IZIPART is your one stop shop for a complete range of OEM and aftermarket VOLVO Diesel Engines parts and Equipment. Parts for marine and industrial Volvo Penta engines― the most in-demand products are always in stock.
An extensive range of spare parts are available for the following models of VOLVO INDUSTRIAL ENGINES: EC55, EC140, EC160, EC180, EC210, EC240, EC290, EC360, EC460, EC700, and more. In addition to the VOLVO items listed on our Industrial Engine Marketplace, we can source others upon request. If the part you need isn't shown, ask us to find it for you.
These Volvo Industrial Engines are found in agricultural, construction, marine industries. Our range of spare parts and components include parts such as Pistons, Ring sets, Crankshafts, Camshafts, Oil and Water Pumps, Injectors, Gaskets, Seals, and more for CAT New/Reconditioned Diesel Engines & Parts.
VOLVO diesel engines spare parts and equipment can be found in various construction and industrial machinery equipment. These would include: Backhoes, Dozers, Dump trucks, Excavators, Forklifts, Mobile cranes, Pavers, Road construction equipment, Tractor unit for ports and distribution centres.
| Spare Part | OEM | BRAND | INDUSTRY |
| --- | --- | --- | --- |
| Cylinder Head | VOE 11117172 | Volvo | Industrial Engines, Construction Engines, Marine Diesel Engines |
| Cylinder Block | VOE 11193665 | Volvo | Industrial Engines, Construction Engines, Marine Diesel Engines |
| Crankshaft | VOE 11059958 | Volvo | Industrial Engines, Construction Engines, Marine Diesel Engines |
| Bearings | VOE 11119887 | Volvo | Industrial Engines, Construction Engines, Marine Diesel Engines |
| Fuel System | VOE 11196243 | Volvo | Industrial Engines, Construction Engines, Marine Diesel Engines |
| Gaskets | VOE 11196242 | Volvo | Industrial Engines, Construction Engines, Marine Diesel Engines |
| Pistons | VOE 11709042 | Volvo | Industrial Engines, Construction Engines, Marine Diesel Engines |
| Turbo | VOE 21023287 | Volvo | Industrial Engines, Construction Engines, Marine Diesel Engines |
| Discs | VOE 11096818 | Volvo | Industrial Engines, Construction Engines, Marine Diesel Engines |
| Cooling System | VOE 17418494 | Volvo | Industrial Engines, Construction Engines, Marine Diesel Engines |
| Electrical | VOE 421753 | Volvo | Industrial Engines, Construction Engines, Marine Diesel Engines |
| Valves | VOE 1578102 | Volvo | Industrial Engines, Construction Engines, Marine Diesel Engines |
| Engine Overhaul Kits | VOE 14508629 | Volvo | Industrial Engines, Construction Engines, Marine Diesel Engines |
| VOLVO HEAD LAMP | VOE 11145324 | Volvo | Industrial Engines, Construction Engines, Marine Diesel Engines |
| VOLVO BEARING | VOE11190766 | Volvo | Industrial Engines, Construction Engines, Marine Diesel Engines |
| VOLVO WIPER BLADE | VOE 11709042 | Volvo | Industrial Engines, Construction Engines, Marine Diesel Engines |
| VOLVO HYD RETURN FILTER | VOE 11121340 | Volvo | Industrial Engines, Construction Engines, Marine Diesel Engines |
| VOLVO HOSE | VOE 11052112 | Volvo | Industrial Engines, Construction Engines, Marine Diesel Engines |
| VOLVO HOSE | VOE 11194468 | Volvo | Industrial Engines, Construction Engines, Marine Diesel Engines |
| VOLVO SERVICE BRAKE LINING | VOE 11193665 | Volvo | Industrial Engines, Construction Engines, Marine Diesel Engines |
| VOLVO FILTER HOUSINg | VOE 11190761 | Volvo | Industrial Engines, Construction Engines, Marine Diesel Engines |
| VOLVO HYD.TANK STRAINER | VOE 1111306 | Volvo | Industrial Engines, Construction Engines, Marine Diesel Engines |
| VOLVO BATTERY MAIN SWITCH | VOE 15011335 | Volvo | Industrial Engines, Construction Engines, Marine Diesel Engines |
| VOLVO CAP ROLLER | VOE 11193687 | Volvo | Industrial Engines, Construction Engines, Marine Diesel Engines |
| VOLVO CONTACT | VOE 11113070 | Volvo | Industrial Engines, Construction Engines, Marine Diesel Engines |
| VOLVO WIPER BLADE | VOE 14513717 | Volvo | Industrial Engines, Construction Engines, Marine Diesel Engines |
| VOLVO TEMP. SENSOR | VOE14541717 | Volvo | Industrial Engines, Construction Engines, Marine Diesel Engines |
| VOLVO PUMP | VOE 11000247 | Volvo | Industrial Engines, Construction Engines, Marine Diesel Engines |
| VOLVO BRALE PAD PAIR | VOE 11000248 | Volvo | Industrial Engines, Construction Engines, Marine Diesel Engines |
| VOLVO RUBBER SPRING | VOE 11000249 | Volvo | Industrial Engines, Construction Engines, Marine Diesel Engines |
| VOLVO RUBBER ELEMENT | | Volvo | Industrial Engines, Construction Engines, Marine Diesel Engines |
| VOLVO BEARING | | Volvo | Industrial Engines, Construction Engines, Marine Diesel Engines |
| VOLVO BEARING | | Volvo | Industrial Engines, Construction Engines, Marine Diesel Engines |
| VOLVO SEAL | | Volvo | Industrial Engines, Construction Engines, Marine Diesel Engines |
| VOLVO O-RING | | Volvo | Industrial Engines, Construction Engines, Marine Diesel Engines |
| VOLVO BEARING | | Volvo | Industrial Engines, Construction Engines, Marine Diesel Engines |
| VOLVO BEARING | | Volvo | Industrial Engines, Construction Engines, Marine Diesel Engines |
| VOLVO O-RING | | Volvo | Industrial Engines, Construction Engines, Marine Diesel Engines |
| VOLVO BUCKET,CYLINDER | | Volvo | Industrial Engines, Construction Engines, Marine Diesel Engines |
| VOLVO SEALING KIT BOOM CYL | | Volvo | |