John Deere Engine & Spare parts
PARTS AND ENGINES FOR JOHN DEERE AGRICULTURE AND CONSTRUCTION EQUIPMENT
Get a Free Quote
Our technical team will answer any questions about your customised request.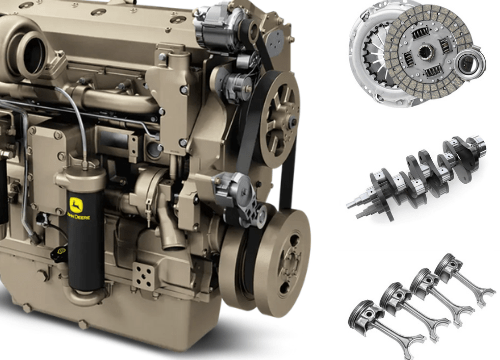 John Deere Industrial diesel New/Reconditioned engines parts and equipment have a wide range of direct replacement starters, alternators, water pumps, generators and other Diesel Engines parts for John deere agriculture and construction equipment.
JOHN DEERE ENGINES

JOHN DEERE FUEL SYSTEM

JOHN DEERE PUMPS

JOHN DEERE ELECTRICAL SYSTEM

JOHN DEERE SENSING DEVICES

JOHN DEERE REPAIR KITS

JOHN DEERE AGRICULTURE ENGINES AND PARTS
Piston Rings

Crankshafts

Cylinder heads

Bearing

Oil and Water pumps

Coolers

Turbochargers

Manifolds

Drive belts

Gasket sets
IZIPART is your one stop shop for a complete range of OEM and aftermarket John Deere Diesel Engines parts and Equipment. Parts for agriculture and construction equipment John deere parts― the most in-demand products are always in stock.
An extensive range of spare parts are available for the following models of John Deere: 3-135, 4-145, 3-152, 4-155, 3-164, 4-165, 3-179D, 3-179T, 4-202, 4-219, 4-239, 4-270, 4-276, 6-303, 6-329, 6-359, 2-378, 6-404, 6-414, 6-466, 6-531, 6-619, 3029, 2.9 PTech, 4039, 4045, 4.5 PTech, 6059D, 6068, 6.8 PTech, 6076 7.6L, 6081 8.1L, 6101 10.1L, 6105 10.5L, 6125 12.5L and many more.  In addition to the John Deere items listed on our Industrial Engine Marketplace, we can source others upon request. If the part you need isn't shown, ask us to find it for you.
These John Deere  Industrial Engines are found in agricultural, construction industries. Our range of spare parts and components include parts such as Pistons, Ring sets, Crankshafts, Camshafts, Oil and Water Pumps, Injectors, Gaskets, Seals, and more for John Deere New/Reconditioned Diesel Engines & Parts.
John Deere diesel engines spare parts and equipment can be found in various machinery equipment. These would include: Backhoes, Dozers, Dump trucks, Excavators, Forklifts, Mobile cranes, Pavers, Road construction equipment, Tractor unit for ports and distribution centres.
| PRODUCT | MODEL | BRAND |
| --- | --- | --- |
| Liter Designated, Con Rod (M): R80034, Piston (M): RE30250, RE18697 | 5600 | John Deere |
| O'rings On Block, Con Rod (M): T20007, R81410, Piston (M): T23481 | 3420 | John Deere |
| Piston (M) RE59277, RE505100 | 6603 | John Deere |
| O'rings On Liner, Con Rod (M): RE19733 (SUB FOR AT18005), To ESN 158,257 | 2020 | John Deere |
| O'rings On Liner, Con Rod (M): RE19733 (SUB FOR AT18005), To ESN 158,257 | 2510 | John Deere |
| Small Pin, O'rings On Liner, Con Rod (M): T20007, R81410, Piston (M): RE53265, T30015, R51451, AR78310 | 3120 | John Deere |
| Block (M) R46350, R46430, R40910 | 3020 | John Deere |
| Early, Con Rod (M): R66925, R57484 | 8630 | John Deere |
| Block (M) R26070, R33180, R34340, R40890, R40900 | 4010 | John Deere |
| Block (M) R26070, R33180, R34340, R40890, R40900 | 4020 | John Deere |
| O'rings On Liner, Con Rod (M): T20007 R81410 | 820 | John Deere |
| O'rings On Liner, Con Rod (M): T20007 R81410 | 1020 | John Deere |
| O'rings On Liner, Con Rod (M): T20007 R81410 | 1030 | John Deere |
| From ESN 335,846, Block (M): R49470, R49650, R59850, R72128, R87558 | 4430 | John Deere |
| From ESN 335,846, Block (M): R49470, R49650, R59850, R72128, R87558 | 4630 | John Deere |
| From ESN 335,846, Block (M): R49470, R49650, R59850, R72128, R87558 | 5440 | John Deere |
| Piston (M) RE500211 | 5400 | John Deere |
| Piston (M) RE500211 | 5400N | John Deere |
| Large Pin, O'rings On Block, Con Rod (M): RE19733 (SUB FOR AT18005), From ESN 179,602 | 1530 | John Deere |
| Large Pin, O'rings On Block, Con Rod (M): RE19733 (SUB FOR AT18005), From ESN 179,602 | 2040 | John Deere |
| Large Pin, O'rings On Block, Con Rod (M): RE19733 (SUB FOR AT18005), From ESN 179,602 | 2330 | John Deere |
| Small Pin | 2630 | John Deere |
| Small Pin | 2640 | John Deere |
| Block (M) R26160, R32020, R40850 | 3010 | John Deere |
| Block (M) R26160, R32020, R40850 | 3020 | John Deere |
| Piston (M) RE515037 Tier 2 & Tier 3 | 6430 | John Deere |
| Piston (M) RE515037 Tier 2 & Tier 3 | 6534 | John Deere |
| Piston (M) RE515037 Tier 2 & Tier 3 | 7130 | John Deere |
| Large Pin, O'rings On Block, Con Rod (M): RE19733 (SUB FOR AT18005), From ESN 158,258 | 2020 | John Deere |
| Large Pin, O'rings On Block, Con Rod (M): RE19733 (SUB FOR AT18005), From ESN 158,258 | 2120 | John Deere |
| Large Pin, O'rings On Block, Con Rod (M): RE19733 (SUB FOR AT18005), From ESN 158,258 | 2510 | John Deere |
| Small Pin, O'rings On Block, Con Rod (M): T20007, R81410, Piston (M): RE53265, T30015, AR78310 | 3120 | John Deere |
| Small Pin, O'rings On Block, Con Rod (M): T20007, R81410, Piston (M): RE53265, T30015, AR78310 | 4030 | John Deere |
| Small Pin, O'rings On Block, Con Rod (M): T20007, R81410, Piston (M): RE53265, T30015, AR78310 | 4420 | John Deere |
| Con Rod (M) R66922, R58852, R41423 | 4050 | John Deere |
| Con Rod (M) R66922, R58852, R41423 | 4240 | John Deere |
| Mid, Con Rod (M): R63959 | 8630 | John Deere |
| Mid, Con Rod (M): R63959 | 8640 | John Deere |
| Mid, Con Rod (M): R63959 | 8650 | John Deere |
| Liter Designated | 6100 | John Deere |
| Liter Designated | SE6100 | John Deere |
| Block (M) R40610, R40620, R45950, R47170, R48440 | 4000 | John Deere |
| Block (M) R40610, R40620, R45950, R47170, R48440 | 4010 | John Deere |
| Block (M) R40610, R40620, R45950, R47170, R48440 | 4020 | John Deere |
| Small Pin, O'rings On Liner, Con Rod (M): T20007, R81410, To ESN 275,483 | 2520 | John Deere |
| Liter Designated, Con Rod (M): R80032, Piston (M): RE22678 | 3140C | John Deere |
| Liter Designated, Con Rod (M): R80032, Piston (M): RE22678 | 6600 | John Deere |
| Liter Designated, Con Rod (M): R80032, Piston (M): RE22678 | 7200 | John Deere |
| Piston (M) RE521616 Tier 2 & Tier 3 | 7130 | John Deere |
| Piston (M) RE521616 Tier 2 & Tier 3 | 6430 | John Deere |
| Piston (M) RE521616 Tier 2 & Tier 3 | 6534 | John Deere |
| Early Power Booster | 3010 | John Deere |
| Early Power Booster | 3020 | John Deere |
| Low Ring Piston, Con Rod (M): R71074 (P/N AR93341) | 4955 | John Deere |
| Low Ring Piston, Con Rod (M): R71074 (P/N AR93341) | 4960 | John Deere |
| Low Ring Piston, Con Rod (M): R71074 (P/N AR93341) | 8560 | John Deere |
| Low Ring Piston, Con Rod (M): R71074 (P/N AR93341) | 8570 | John Deere |
| O'rings On Block, Con Rod (M): T20007, R81410, From ESN 154,766 | 820 | John Deere |
| O'rings On Block, Con Rod (M): T20007, R81410, From ESN 154,766 | 830 | John Deere |
| O'rings On Block, Con Rod (M): T20007, R81410, From ESN 154,766 | 1020 | John Deere |
| O'rings On Block, Con Rod (M): T20007, R81410, From ESN 154,766 | 1030 | John Deere |
| Liter Designated, Large Pin | 6506 | John Deere |
| Block (M) R40700, R47520, R48430, R50610, R72127 | 3020 | John Deere |
| Liter Designated, Con Rod (M): R51727, R80034 | 5200 | John Deere |
| Liter Designated, Con Rod (M): R51727, R80034 | 5300 | John Deere |
| Liter Designated, Con Rod (M): R51727, R80034 | 5400 | John Deere |
| Block (M) R49470, R49650, R59850, R72128, R87558 | 4040 | John Deere |
| Block (M) R49470, R49650, R59850, R72128, R87558 | 4230 | John Deere |
| Small Pin, O'rings On Liner, Con Rod (M): T20007, R81410, To ESN 179,601 | 1520 | John Deere |
| Small Pin, O'rings On Block, Con Rod (M): T20007, R81410, To ESN 275,483 | 2030 | John Deere |
| Small Pin, O'rings On Block, Con Rod (M): T20007, R81410, To ESN 275,483 | 2120 | John Deere |
| Con.Rod (M) R71074 (P/N AR93341) | 4250 | John Deere |
| Con.Rod (M) R71074 (P/N AR93341) | 4440 | John Deere |
| Con.Rod (M) R71074 (P/N AR93341) | 4450 | John Deere |
| Con.Rod (M) R71074 (P/N AR93341) | 4640 | John Deere |
| Con.Rod (M) R71074 (P/N AR93341) | 4650 | John Deere |
| Con.Rod (M) R71074 (P/N AR93341) | 5460 | John Deere |
| Con.Rod (M) R71074 (P/N AR93341) | 6622 | John Deere |
| Late, Con Rod (M): R63959 | 8630 | John Deere |
| Late, Con Rod (M): R63959 | 8640 | John Deere |
| Late, Con Rod (M): R63959 | 8650 | John Deere |
| Liter Designated, Con Rod (M): R80034, Piston (M): RE30250 | 2955 | John Deere |
| Liter Designated, Con Rod (M): R80034, Piston (M): RE30250 | 3155 | John Deere |
| Liter Designated, Con Rod (M): R80034, Piston (M): RE30250 | 3155TSS | John Deere |
| Liter Designated, Con Rod (M): R80034, Piston (M): RE30250 | 3255 | John Deere |
| Liter Designated, Con Rod (M): R80034, Piston (M): RE30250 | 3640 | John Deere |
| Liter Designated, Con Rod (M): R80034, Piston (M): RE30250 | 3650 | John Deere |
| Piston (M) RE515037 Tier 2 & Tier 3 | 6430 | John Deere |
| Piston (M) RE515037 Tier 2 & Tier 3 | 6534 | John Deere |
| Piston (M) RE515037 Tier 2 & Tier 3 | 7130 | John Deere |
| Block (M) R26070, R33180, R34340, R40890, R40900 | 4020 | John Deere |
| Block (M) R26070, R33180, R34340, R40890, R40900 | 4010 | John Deere |
| To ESN 499,999 | 8870 | John Deere |
| Con Rod (M): R80032 | 2355NTSS | John Deere |
| Con Rod (M): R80032 | 2355NCS | John Deere |
| Piston (M) RE520573 | 5103 | John Deere |
| Piston (M) RE520573 | 5203 | John Deere |
| Piston (M) RE55512, RE505102 | 7405 | John Deere |
| Piston (M) RE55512, RE505102 | 7410 | John Deere |
| Piston (M) RE55512, RE505102 | 7510 | John Deere |
| Piston (M) RE55512, RE505102 | 7610 | John Deere |
| Piston (M) RE55512, RE505102 | 6605 | John Deere |
| Piston (M) RE55512, RE505102 | 6615 | John Deere |
| Piston (M) RE55512, RE505102 | 6715 | John Deere |
| Piston (M) RE55512, RE505102 | 7210 | John Deere |
| Large Pin, O'rings On Block, Con Rod (M): RE16495, Piston (M): AR77762 | 4030 | John Deere |
| Large Pin, O'rings On Block, Con Rod (M): RE16495, Piston (M): AR77762 | 4425 | John Deere |
| Large Pin, O'rings On Block, Con Rod (M): RE16495, Piston (M): AR77762 | 2840 | John Deere |
| Large Pin, O'rings On Block, Con Rod (M): RE16495, Piston (M): AR77762 | 3130 | John Deere |
| Large Pin, O'rings On Block, Con Rod (M): RE16495, Piston (M): AR77762 | 3530 | John Deere |
| Con Rod (M) R35048, R58881, R40238, R66927, R53286 | 5020 | John Deere |
| Con Rod (M) R35048, R58881, R40238, R66927, R53286 | 6030 | John Deere |
| Piston (M) RE515037 Tier 2 & Tier 3 | 7195J | John Deere |
| Piston (M) RE515037 Tier 2 & Tier 3 | 7210J | John Deere |
| Piston (M) RE515037 Tier 2 & Tier 3 | 7225J | John Deere |
| Piston (M) RE515037 Tier 2 & Tier 3 | 7430E | John Deere |
| Piston (M) RE515037 Tier 2 & Tier 3 | 7530E | John Deere |
| Piston (M) RE515037 Tier 2 & Tier 3 | 7530 | John Deere |
| Piston (M) RE515037 Tier 2 & Tier 3 | 7630 | John Deere |
| Piston (M) RE515037 Tier 2 & Tier 3 | 7730 | John Deere |
| Piston (M) RE515037 Tier 2 & Tier 3 | 7830 | John Deere |
| Piston (M) RE515037 Tier 2 & Tier 3 | 7930 | John Deere |
| Liter Designated, Con Rod (M): R80032, R58979, R113612 | 5500 | John Deere |
| Liter Designated | 6500L | John Deere |
| Liter Designated | SE6400 | John Deere |
| Liter Designated | 6400 | John Deere |
| Liter Designated | 6400L | John Deere |
| Liter Designated | 6500 | John Deere |
| Con Rod (M): R80032, R113612, Piston (M): RE22678, RE19278 | 3140C | John Deere |
| Con Rod (M): R80032, R113612, Piston (M): RE22678, RE19278 | 3540 | John Deere |
| Con Rod (M): R80032, R113612, Piston (M): RE22678, RE19278 | 3550 | John Deere |
| Con Rod (M): R80032, R113612, Piston (M): RE22678, RE19278 | 4050 | John Deere |
| Con Rod (M): R80032, R113612, Piston (M): RE22678, RE19278 | 7200 | John Deere |
| To ESN 335,845, Block (M): R43310, R45980, R47020, R47110 | 4620 | John Deere |
| To ESN 335,845, Block (M): R43310, R45980, R47020, R47110 | 5440 | John Deere |
| To ESN 335,845, Block (M): R43310, R45980, R47020, R47110 | 4520 | John Deere |
| High Ring Piston, Con Rod (M): R71074 (P/N AR93341) | 4455 | John Deere |
| High Ring Piston, Con Rod (M): R71074 (P/N AR93341) | 4555 | John Deere |
| High Ring Piston, Con Rod (M): R71074 (P/N AR93341) | 4560 | John Deere |
| High Ring Piston, Con Rod (M): R71074 (P/N AR93341) | 4755 | John Deere |
| High Ring Piston, Con Rod (M): R71074 (P/N AR93341) | 4760 | John Deere |
| High Ring Piston, Con Rod (M): R71074 (P/N AR93341) | 7700 | John Deere |
| High Ring Piston, Con Rod (M): R71074 (P/N AR93341) | 7800 | John Deere |
| High Ring Piston, Con Rod (M): R71074 (P/N AR93341) | 8100 | John Deere |
| High Ring Piston, Con Rod (M): R71074 (P/N AR93341) | 8200 | John Deere |
| High Ring Piston, Con Rod (M): R71074 (P/N AR93341) | 4055 | John Deere |
| High Ring Piston, Con Rod (M): R71074 (P/N AR93341) | 8300 | John Deere |
| High Ring Piston, Con Rod (M): R71074 (P/N AR93341) | 4255 | John Deere |
| Piston (M) RE61270 | 5400 | John Deere |
| Piston (M) RE61270 | 5400N | John Deere |
| Piston (M) RE515037 Tier 2 & Tier 3 | 7930 | John Deere |
| Piston (M) RE515037 Tier 2 & Tier 3 | 7195J | John Deere |
| Piston (M) RE515037 Tier 2 & Tier 3 | 7210J | John Deere |
| Piston (M) RE515037 Tier 2 & Tier 3 | 7225J | John Deere |
| Piston (M) RE515037 Tier 2 & Tier 3 | 7430E | John Deere |
| Piston (M) RE515037 Tier 2 & Tier 3 | 7530E | John Deere |
| Piston (M) RE515037 Tier 2 & Tier 3 | 7530 | John Deere |
| Piston (M) RE515037 Tier 2 & Tier 3 | 7630 | John Deere |
| Piston (M) RE515037 Tier 2 & Tier 3 | 7730 | John Deere |
| Piston (M) RE515037 Tier 2 & Tier 3 | 7830 | John Deere |
| Low Compression Piston. From ESN 200,000. Tier 2. | 8420 | John Deere |
| Low Compression Piston. From ESN 200,000. Tier 2. | 8520 | John Deere |
| Low Compression Piston. From ESN 200,000. Tier 2. | 8120T | John Deere |
| Low Compression Piston. From ESN 200,000. Tier 2. | 8220T | John Deere |
| Low Compression Piston. From ESN 200,000. Tier 2. | 8320T | John Deere |
| Low Compression Piston. From ESN 200,000. Tier 2. | 8420T | John Deere |
| Low Compression Piston. From ESN 200,000. Tier 2. | 8520T | John Deere |
| Low Compression Piston. From ESN 200,000. Tier 2. | 8120 | John Deere |
| Low Compression Piston. From ESN 200,000. Tier 2. | 8220 | John Deere |
| Low Compression Piston. From ESN 200,000. Tier 2. | 8320 | John Deere |
| Small Pin, O'rings On Block, Con Rod (M): T20007, R81410, To ESN 179,601 | 1420 | John Deere |
| Small Pin, O'rings On Block, Con Rod (M): T20007, R81410, To ESN 179,601 | 1520 | John Deere |
| Small Pin, O'rings On Block, Con Rod (M): T20007, R81410, To ESN 179,601 | 1530 | John Deere |
| Large Pin, O'rings On Block, Con Rod (M): R51727, R80034, From ESN 275,484 | 1035 | John Deere |
| Large Pin, O'rings On Block, Con Rod (M): R51727, R80034, From ESN 275,484 | 1130 | John Deere |
| Large Pin, O'rings On Block, Con Rod (M): R51727, R80034, From ESN 275,484 | 1635 | John Deere |
| Large Pin, O'rings On Block, Con Rod (M): R51727, R80034, From ESN 275,484 | 2030 | John Deere |
| Large Pin, O'rings On Block, Con Rod (M): R51727, R80034, From ESN 275,484 | 2035 | John Deere |
| Large Pin, O'rings On Block, Con Rod (M): R51727, R80034, From ESN 275,484 | 2120 | John Deere |
| Large Pin, O'rings On Block, Con Rod (M): R51727, R80034, From ESN 275,484 | 2440 | John Deere |
| Large Pin, O'rings On Block, Con Rod (M): R51727, R80034, From ESN 275,484 | 2530 | John Deere |
| Con Rod (M) R80032, R113612, R122191, Piston (M): RE33115 | 2755CS | John Deere |
| Con Rod (M) R80032, R113612, R122191, Piston (M): RE33115 | 2755TSS | John Deere |
| Con Rod (M) R80032, R113612, R122191, Piston (M): RE33115 | 2850 | John Deere |
| Con Rod (M) R80032, R113612, R122191, Piston (M): RE33115 | 2855 | John Deere |
| Con Rod (M) R80032, R113612, R122191, Piston (M): RE33115 | 2140 | John Deere |
| Con Rod (M) R80032, R113612, R122191, Piston (M): RE33115 | 2855N | John Deere |
| Con Rod (M) R80032, R113612, R122191, Piston (M): RE33115 | 2450 | John Deere |
| Con Rod (M) R80032, R113612, R122191, Piston (M): RE33115 | 2555 | John Deere |
| Con Rod (M) R80032, R113612, R122191, Piston (M): RE33115 | 2555TSS | John Deere |
| Con Rod (M) R80032, R113612, R122191, Piston (M): RE33115 | 2650 | John Deere |
| Con Rod (M) R80032, R113612, R122191, Piston (M): RE33115 | 2750 | John Deere |
| Con Rod (M) R80032, R113612, R122191, Piston (M): RE33115 | 2755 | John Deere |
| Liter Designated | 6900 | John Deere |
| Liter Designated | 7400 | John Deere |
| Liter Designated | 7410 | John Deere |
| Liter Designated | 7600 | John Deere |
| Liter Designated | 6800 | John Deere |
| Con Rod (M) R57303, R67320 | 6622 | John Deere |
| Con Rod (M) R57303, R67320 | 8430 | John Deere |
| Con Rod (M) R57303, R67320 | 8440 | John Deere |
| Con Rod (M) R57303, R67320 | 8450 | John Deere |
| Con Rod (M) R57303, R67320 | 4440 | John Deere |
| Con Rod (M) R57303, R67320 | 4640 | John Deere |
| Con Rod (M) R57303, R67320 | 4840 | John Deere |
| Con Rod (M) R48315, R53287, R58883, R66926 | 6030 | John Deere |
| Con Rod (M) R48315, R53287, R58883, R66926 | 7520 | John Deere |
| Piston (M) RE59279, RE505101 | 5420 | John Deere |
| Piston (M) RE59279, RE505101 | 5420N | John Deere |
| Piston (M) RE59279, RE505101 | 5510 | John Deere |
| Piston (M) RE59279, RE505101 | 5615 | John Deere |
| Piston (M) RE59279, RE505101 | 5715 | John Deere |
| Piston (M) RE59279, RE505101 | 6010 | John Deere |
| Piston (M) RE59279, RE505101 | 6110 | John Deere |
| Piston (M) RE59279, RE505101 | 6610 | John Deere |
| Piston (M) RE59279, RE505101 | 5410 | John Deere |
| Piston (M) RE59279, RE505101 | 5415 | John Deere |
| Piston (M) RE55512, RE505102 | 6310S | John Deere |
| Piston (M) RE55512, RE505102 | 6405 | John Deere |
| Piston (M) RE55512, RE505102 | 6410 | John Deere |
| Piston (M) RE55512, RE505102 | 6410L | John Deere |
| Piston (M) RE55512, RE505102 | 6010 | John Deere |
| Piston (M) RE55512, RE505102 | 6410S | John Deere |
| Piston (M) RE55512, RE505102 | 6110 | John Deere |
| Piston (M) RE55512, RE505102 | 6510L | John Deere |
| Piston (M) RE55512, RE505102 | 6110L | John Deere |
| Piston (M) RE55512, RE505102 | 6610S | John Deere |
| Piston (M) RE55512, RE505102 | 6210 | John Deere |
| Piston (M) RE55512, RE505102 | 6605 | John Deere |
| Piston (M) RE55512, RE505102 | 6210L | John Deere |
| Piston (M) RE55512, RE505102 | 6610 | John Deere |
| Piston (M) RE55512, RE505102 | 6310 | John Deere |
| Piston (M) RE55512, RE505102 | 6310L | John Deere |
| Piston (M) RE507758 Tier 2 & Tier 3 | 6430 | John Deere |
| Piston (M) RE507758 Tier 2 & Tier 3 | 6534 | John Deere |
| Piston (M) RE507758 Tier 2 & Tier 3 | 7130 | John Deere |
| Piston (M) RE527039 Tier 2 & Tier 3 | 6530 | John Deere |
| Piston (M) RE527039 Tier 2 & Tier 3 | 6630 | John Deere |
| Piston (M) RE527039 Tier 2 & Tier 3 | 6830 | John Deere |
| Piston (M) RE527039 Tier 2 & Tier 3 | 6930 | John Deere |
| Piston (M) RE527039 Tier 2 & Tier 3 | 7130 | John Deere |
| Piston (M) RE527039 Tier 2 & Tier 3 | 1470 | John Deere |
| Piston (M) RE527039 Tier 2 & Tier 3 | 7230 | John Deere |
| Piston (M) RE527039 Tier 2 & Tier 3 | 1654 | John Deere |
| Piston (M) RE527039 Tier 2 & Tier 3 | 7330 | John Deere |
| Piston (M) RE527039 Tier 2 & Tier 3 | 1854 | John Deere |
| Piston (M) RE527039 Tier 2 & Tier 3 | 7430 | John Deere |
| Piston (M) RE527039 Tier 2 & Tier 3 | 2054 | John Deere |
| Piston (M) RE527039 Tier 2 & Tier 3 | 6225 | John Deere |
| Piston (M) RE527039 Tier 2 & Tier 3 | 6525 | John Deere |
| Piston (M) RE507758 Tier 2 & Tier 3 | 7930 | John Deere |
| Piston (M) RE507758 Tier 2 & Tier 3 | 7195J | John Deere |
| Piston (M) RE507758 Tier 2 & Tier 3 | 7210J | John Deere |
| Piston (M) RE507758 Tier 2 & Tier 3 | 7225J | John Deere |
| Piston (M) RE507758 Tier 2 & Tier 3 | 7430E | John Deere |
| Piston (M) RE507758 Tier 2 & Tier 3 | 7530E | John Deere |
| Piston (M) RE507758 Tier 2 & Tier 3 | 7530 | John Deere |
| Piston (M) RE507758 Tier 2 & Tier 3 | 7630 | John Deere |
| Piston (M) RE507758 Tier 2 & Tier 3 | 7730 | John Deere |
| Piston (M) RE507758 Tier 2 & Tier 3 | 7830 | John Deere |
| Low Compression Piston. To ESN 199,999. Tier 1 | 8400 | John Deere |
| Low Compression Piston. To ESN 199,999. Tier 1 | 8410 | John Deere |
| Low Compression Piston. To ESN 199,999. Tier 1 | 9100 | John Deere |
| Low Compression Piston. To ESN 199,999. Tier 1 | 8410T | John Deere |
| Con Rod (M): R80034 | 1750 | John Deere |
| Con Rod (M): R80034 | 1850 | John Deere |
| Con Rod (M): R80034 | 2040 | John Deere |
| Con Rod (M): R80034 | 2150 | John Deere |
| Con Rod (M): R80034 | 2155 | John Deere |
| Con Rod (M): R80034 | 2240 | John Deere |
| Con Rod (M): R80034 | 1140 | John Deere |
| Con Rod (M): R80034 | 5000 | John Deere |
| Con Rod (M): R80034 | 1140 | John Deere |
| Con Rod (M): R80034 | 1350 | John Deere |
| Con Rod (M): R80034 | 1550 | John Deere |
| Con Rod (M): R80034 | 1630 | John Deere |
| Con Rod (M): R80034, Piston (M): RE30250 | 2135 | John Deere |
| Con Rod (M): R80034, Piston (M): RE30250 | 2735 | John Deere |
| Con Rod (M): R80034, Piston (M): RE30250 | 2250 | John Deere |
| Con Rod (M): R80034, Piston (M): RE30250 | 3330 | John Deere |
| Con Rod (M): R80034, Piston (M): RE30250 | 2350 | John Deere |
| Con Rod (M): R80034, Piston (M): RE30250 | 2355 | John Deere |
| Con Rod (M): R80034, Piston (M): RE30250 | 2355CS | John Deere |
| Con Rod (M): R80034, Piston (M): RE30250 | 2450 | John Deere |
| Con Rod (M): R80034, Piston (M): RE30250 | 2535 | John Deere |
| Con Rod (M): R80034, Piston (M): RE30250 | 2550 | John Deere |
| Con Rod (M): R80034, Piston (M): RE30250 | 1640 | John Deere |
| Con Rod (M): R80034, Piston (M): RE30250 | 2555CS | John Deere |
| Con Rod (M): R80034, Piston (M): RE30250 | 1840 | John Deere |
| Con Rod (M): R80034, Piston (M): RE30250 | 2650 | John Deere |
| Con Rod (M): R80034, Piston (M): RE30250 | 2130 | John Deere |
| Con Rod (M): R80034, Piston (M): RE30250 | 2730 | John Deere |
| Liter Designated, Con Rod (M): R80032, R122191, R113612, Piston (M): RE19282, RE30250 | 6300 | John Deere |
| Liter Designated, Con Rod (M): R80032, R122191, R113612, Piston (M): RE19282, RE30250 | 6300L | John Deere |
| Liter Designated, Con Rod (M): R80032, R122191, R113612, Piston (M): RE19282, RE30250 | SE6300 | John Deere |
| Liter Designated, Con Rod (M): R80032, R122191, R113612, Piston (M): RE19282, RE30250 | 6310 | John Deere |
| Liter Designated, Con Rod (M): R80032, R122191, R113612, Piston (M): RE19282, RE30250 | 5500N | John Deere |
| Liter Designated, Con Rod (M): R80032, R122191, R113612, Piston (M): RE19282, RE30250 | 5700 | John Deere |
| Liter Designated, Con Rod (M): R80032, R122191, R113612, Piston (M): RE19282, RE30250 | 6200 | John Deere |
| Liter Designated, Con Rod (M): R80032, R122191, R113612, Piston (M): RE19282, RE30250 | 6200L | John Deere |
| Liter Designated, Con Rod (M): R80032, R122191, R113612, Piston (M): RE19282, RE30250 | SE6200 | John Deere |
| Liter Designated, Con Rod (M): R80032, R122191, R113612, Piston (M): RE19282, RE30250 | 6210 | John Deere |
| Con Rod (M): R80034, Piston (M): RE30250 | 3255 | John Deere |
| Con Rod (M): R80034, Piston (M): RE30250 | 3350 | John Deere |
| Con Rod (M): R80034, Piston (M): RE30250 | 2940 | John Deere |
| Con Rod (M): R80034, Piston (M): RE30250 | 3640 | John Deere |
| Con Rod (M): R80034, Piston (M): RE30250 | 2950 | John Deere |
| Con Rod (M): R80034, Piston (M): RE30250 | 4420 | John Deere |
| Con Rod (M): R80034, Piston (M): RE30250 | 2955 | John Deere |
| Con Rod (M): R80034, Piston (M): RE30250 | 4530 | John Deere |
| Con Rod (M): R80034, Piston (M): RE30250 | 3040 | John Deere |
| Con Rod (M): R80034, Piston (M): RE30250 | 3050 | John Deere |
| Con Rod (M): R80034, Piston (M): RE30250 | 3140 | John Deere |
| Con Rod (M): R80034, Piston (M): RE30250 | 3150 | John Deere |
| Con Rod (M): R80034, Piston (M): RE30250 | 3155 | John Deere |
| Con Rod (M): R80034, Piston (M): RE30250 | 3155TSS | John Deere |
| Block (M) R40930 | 4010 | John Deere |
| Block (M) R40930 | 4020 | John Deere |
| Con Rod (M) R71074 (P/N AR93341) | 4840 | John Deere |
| Con Rod (M) R71074 (P/N AR93341) | 4850 | John Deere |
| Con Rod (M) R71074 (P/N AR93341) | 8430 | John Deere |
| Con Rod (M) R71074 (P/N AR93341) | 8440 | John Deere |
| Con Rod (M) R71074 (P/N AR93341) | 8450 | John Deere |
| Piston (M) RE61467 | 5310 | John Deere |
| Piston (M) RE61467 | 5310N | John Deere |
| Piston (M) RE61467 | 3100 | John Deere |
| Piston (M) RE61467 | 5105 | John Deere |
| Piston (M) RE61467 | 5200 | John Deere |
| Piston (M) RE61467 | 5205 | John Deere |
| Piston (M) RE61467 | 5210 | John Deere |
| Piston (M) RE61467 | 5220 | John Deere |
| Piston (M) RE61467 | 5300 | John Deere |
| Piston (M) RE59277, RE505100 | 5425 | John Deere |
| Piston (M) RE59277, RE505100 | 5520N | John Deere |
| Piston (M) RE59277, RE505100 | 5510 | John Deere |
| Piston (M) RE59277, RE505100 | 5525N | John Deere |
| Piston (M) RE59277, RE505100 | 5520 | John Deere |
| Piston (M) RE59277, RE505100 | 5625N | John Deere |
| Piston (M) RE59277, RE505100 | 5525 | John Deere |
| Piston (M) RE59277, RE505100 | 5615 | John Deere |
| Piston (M) RE59277, RE505100 | 5625 | John Deere |
| Piston (M) RE59277, RE505100 | 5715 | John Deere |
| Piston (M) RE59277, RE505100 | 5725 | John Deere |
| Piston (M) RE59277, RE505100 | 3410 | John Deere |
| Piston (M) RE59277, RE505100 | 3410X | John Deere |
| Piston (M) RE59277, RE505100 | 4890 | John Deere |
| Piston (M) RE59277, RE505100 | 5425N | John Deere |
| Piston (M) RE59277, RE505100 | 5415 | John Deere |
| Piston (M) RE59277, RE505100 | 5510N | John Deere |
| Piston (M) RE527039 Tier 2 & Tier 3 | 6325 | John Deere |
| Piston (M) RE527039 Tier 2 & Tier 3 | 5105M | John Deere |
| Piston (M) RE527039 Tier 2 & Tier 3 | 6330 | John Deere |
| Piston (M) RE527039 Tier 2 & Tier 3 | 5105ML | John Deere |
| Piston (M) RE527039 Tier 2 & Tier 3 | 6425 | John Deere |
| Piston (M) RE527039 Tier 2 & Tier 3 | 6100D | John Deere |
| Piston (M) RE527039 Tier 2 & Tier 3 | 6430 | John Deere |
| Piston (M) RE527039 Tier 2 & Tier 3 | 6110D | John Deere |
| Piston (M) RE527039 Tier 2 & Tier 3 | 6534 | John Deere |
| Piston (M) RE527039 Tier 2 & Tier 3 | 6115D | John Deere |
| Piston (M) RE527039 Tier 2 & Tier 3 | 5080R | John Deere |
| Piston (M) RE527039 Tier 2 & Tier 3 | 6125D | John Deere |
| Piston (M) RE527039 Tier 2 & Tier 3 | 5080RN | John Deere |
| Piston (M) RE527039 Tier 2 & Tier 3 | 6130D | John Deere |
| Piston (M) RE527039 Tier 2 & Tier 3 | 5090R | John Deere |
| Piston (M) RE527039 Tier 2 & Tier 3 | 6140D | John Deere |
| Piston (M) RE527039 Tier 2 & Tier 3 | 5090RN | John Deere |
| Piston (M) RE527039 Tier 2 & Tier 3 | 6130 | John Deere |
| Piston (M) RE527039 Tier 2 & Tier 3 | 5100R | John Deere |
| Piston (M) RE527039 Tier 2 & Tier 3 | 6230 | John Deere |
| Piston (M) RE527039 Tier 2 & Tier 3 | 5100RN | John Deere |
| Piston (M) RE59279, RE505101 | 6505 | John Deere |
| Piston (M) RE59279, RE505101 | 6510 | John Deere |
| Piston (M) RE59279, RE505101 | SE6510 | John Deere |
| Piston (M) RE59279, RE505101 | 6515 | John Deere |
| Piston (M) RE59279, RE505101 | 6520 | John Deere |
| Piston (M) RE59279, RE505101 | SE6520 | John Deere |
| Piston (M) RE59279, RE505101 | 6205 | John Deere |
| Piston (M) RE521616 Tier 2 & Tier 3 | 7830 | John Deere |
| Piston (M) RE521616 Tier 2 & Tier 3 | 7930 | John Deere |
| Piston (M) RE521616 Tier 2 & Tier 3 | 7195J | John Deere |
| Piston (M) RE521616 Tier 2 & Tier 3 | 7210J | John Deere |
| Piston (M) RE521616 Tier 2 & Tier 3 | 7225J | John Deere |
| Piston (M) RE521616 Tier 2 & Tier 3 | 7430E | John Deere |
| Piston (M) RE521616 Tier 2 & Tier 3 | 7530E | John Deere |
| Piston (M) RE521616 Tier 2 & Tier 3 | 7530 | John Deere |
| Piston (M) RE521616 Tier 2 & Tier 3 | 7630 | John Deere |
| Piston (M) RE521616 Tier 2 & Tier 3 | 7730 | John Deere |
| High Compression Piston. To ESN 199,999. Tier 1 | 8400T | John Deere |
| High Compression Piston. To ESN 199,999. Tier 1 | 8300 | John Deere |
| High Compression Piston. To ESN 199,999. Tier 1 | 8310 | John Deere |
| High Compression Piston. To ESN 199,999. Tier 1 | 8400 | John Deere |
| High Compression Piston. To ESN 199,999. Tier 1 | 9100 | John Deere |
| High Compression Piston. To ESN 199,999. Tier 1 | 8100T | John Deere |
| High Compression Piston. To ESN 199,999. Tier 1 | 7710 | John Deere |
| High Compression Piston. To ESN 199,999. Tier 1 | 8110T | John Deere |
| High Compression Piston. To ESN 199,999. Tier 1 | 7810 | John Deere |
| High Compression Piston. To ESN 199,999. Tier 1 | 8200T | John Deere |
| High Compression Piston. To ESN 199,999. Tier 1 | 8100 | John Deere |
| High Compression Piston. To ESN 199,999. Tier 1 | 8210T | John Deere |
| High Compression Piston. To ESN 199,999. Tier 1 | 8110 | John Deere |
| High Compression Piston. To ESN 199,999. Tier 1 | 8300T | John Deere |
| High Compression Piston. To ESN 199,999. Tier 1 | 8200 | John Deere |
| High Compression Piston. To ESN 199,999. Tier 1 | 8310T | John Deere |
| High Compression Piston. To ESN 199,999. Tier 1 | 8210 | John Deere |
| High Compression Piston. From ESN 200,000. Tier 2. | 7810 | John Deere |
| High Compression Piston. From ESN 200,000. Tier 2. | 8120T | John Deere |
| High Compression Piston. From ESN 200,000. Tier 2. | 8220T | John Deere |
| High Compression Piston. From ESN 200,000. Tier 2. | 8320T | John Deere |
| High Compression Piston. From ESN 200,000. Tier 2. | 8420T | John Deere |
| High Compression Piston. From ESN 200,000. Tier 2. | 8120 | John Deere |
| High Compression Piston. From ESN 200,000. Tier 2. | 8520T | John Deere |
| High Compression Piston. From ESN 200,000. Tier 2. | 8220 | John Deere |
| High Compression Piston. From ESN 200,000. Tier 2. | 7820 | John Deere |
| High Compression Piston. From ESN 200,000. Tier 2. | 8320 | John Deere |
| High Compression Piston. From ESN 200,000. Tier 2. | 7920 | John Deere |
| High Compression Piston. From ESN 200,000. Tier 2. | 8420 | John Deere |
| High Compression Piston. From ESN 200,000. Tier 2. | 8520 | John Deere |
| High Compression Piston. From ESN 200,000. Tier 2. | 7710 | John Deere |
| 9.0 Liter Tier 2 & Tier 3 | 8130 | John Deere |
| 9.0 Liter Tier 2 & Tier 3 | 8295R ILS | John Deere |
| 9.0 Liter Tier 2 & Tier 3 | 8320T | John Deere |
| 9.0 Liter Tier 2 & Tier 3 | 8225R ILS | John Deere |
| 9.0 Liter Tier 2 & Tier 3 | 8330 MFWD | John Deere |
| 9.0 Liter Tier 2 & Tier 3 | 8245R HDMFWD | John Deere |
| 9.0 Liter Tier 2 & Tier 3 | 8530 | John Deere |
| 9.0 Liter Tier 2 & Tier 3 | 8230 | John Deere |
| 9.0 Liter Tier 2 & Tier 3 | 8295R MFWD | John Deere |
| 9.0 Liter Tier 2 & Tier 3 | 8320RT | John Deere |
| 9.0 Liter Tier 2 & Tier 3 | 8225R MFWD | John Deere |
| 9.0 Liter Tier 2 & Tier 3 | 8330T | John Deere |
| 9.0 Liter Tier 2 & Tier 3 | 8245R ILS | John Deere |
| 9.0 Liter Tier 2 & Tier 3 | 8430T | John Deere |
| 9.0 Liter Tier 2 & Tier 3 | 8330 | John Deere |
| 9.0 Liter Tier 2 & Tier 3 | 8295RT | John Deere |
| 9.0 Liter Tier 2 & Tier 3 | 8230 HDMFWD | John Deere |
| 9.0 Liter Tier 2 & Tier 3 | 8335R | John Deere |
| 9.0 Liter Tier 2 & Tier 3 | 8245R MFWD | John Deere |
| 9.0 Liter Tier 2 & Tier 3 | 8530 HDMFWD | John Deere |
| 9.0 Liter Tier 2 & Tier 3 | 8430 | John Deere |
| 9.0 Liter Tier 2 & Tier 3 | 8310R | John Deere |
| 9.0 Liter Tier 2 & Tier 3 | 8230 ILS | John Deere |
| 9.0 Liter Tier 2 & Tier 3 | 8335RT | John Deere |
| 9.0 Liter Tier 2 & Tier 3 | 8260R | John Deere |
| 9.0 Liter Tier 2 & Tier 3 | 8530 ILS | John Deere |
| 9.0 Liter Tier 2 & Tier 3 | 8530 | John Deere |
| 9.0 Liter Tier 2 & Tier 3 | 8310RT | John Deere |
| 9.0 Liter Tier 2 & Tier 3 | 8230 MFWD | John Deere |
| 9.0 Liter Tier 2 & Tier 3 | 8345R | John Deere |
| 9.0 Liter Tier 2 & Tier 3 | 8270R | John Deere |
| 9.0 Liter Tier 2 & Tier 3 | 870G | John Deere |
| 9.0 Liter Tier 2 & Tier 3 | 9230 | John Deere |
| 9.0 Liter Tier 2 & Tier 3 | 8320R | John Deere |
| 9.0 Liter Tier 2 & Tier 3 | 8230 | John Deere |
| 9.0 Liter Tier 2 & Tier 3 | 8345R ILS | John Deere |
| 9.0 Liter Tier 2 & Tier 3 | 8270R HDMFWD | John Deere |
| 9.0 Liter Tier 2 & Tier 3 | 870GP | John Deere |
| 9.0 Liter Tier 2 & Tier 3 | 8130 AT2 ILS | John Deere |
| 9.0 Liter Tier 2 & Tier 3 | 8320R MFWD | John Deere |
| 9.0 Liter Tier 2 & Tier 3 | 8230T | John Deere |
| 9.0 Liter Tier 2 & Tier 3 | 8345R MFWD | John Deere |
| 9.0 Liter Tier 2 & Tier 3 | 8270R ILS | John Deere |
| 9.0 Liter Tier 2 & Tier 3 | 8360R | John Deere |
| 9.0 Liter Tier 2 & Tier 3 | 8130 AT2 MFWD | John Deere |
| 9.0 Liter Tier 2 & Tier 3 | 8320RT | John Deere |
| 9.0 Liter Tier 2 & Tier 3 | 8330 | John Deere |
| 9.0 Liter Tier 2 & Tier 3 | 8345RT | John Deere |
| 9.0 Liter Tier 2 & Tier 3 | 2854 | John Deere |
| 9.0 Liter Tier 2 & Tier 3 | 8270R MFWD | John Deere |
| 9.0 Liter Tier 2 & Tier 3 | 8360RT | John Deere |
| 9.0 Liter Tier 2 & Tier 3 | 8130 ILS | John Deere |
| 9.0 Liter Tier 2 & Tier 3 | 8330 HD MFWD | John Deere |
| 9.0 Liter Tier 2 & Tier 3 | 8330 ILS | John Deere |
| 9.0 Liter Tier 2 & Tier 3 | 8430 HDMFWD | John Deere |
| 9.0 Liter Tier 2 & Tier 3 | 3520 | John Deere |
| 9.0 Liter Tier 2 & Tier 3 | 8285R | John Deere |
| 9.0 Liter Tier 2 & Tier 3 | 8370R | John Deere |
| 9.0 Liter Tier 2 & Tier 3 | 8130 MFWD | John Deere |
| 9.0 Liter Tier 2 & Tier 3 | 8330 HDMFWD | John Deere |
| 9.0 Liter Tier 2 & Tier 3 | 8235R | John Deere |
| 9.0 Liter Tier 2 & Tier 3 | 8430 MFWD | John Deere |
| 9.0 Liter Tier 2 & Tier 3 | 8520 | John Deere |
| 9.0 Liter Tier 2 & Tier 3 | 8295R HDMFWD | John Deere |
| 9.0 Liter Tier 2 & Tier 3 | 8370RT | John Deere |
| 9.0 Liter Tier 2 & Tier 3 | 8225R | John Deere |
| 9.0 Liter Tier 2 & Tier 3 | 8330 ILS | John Deere |
| 9.0 Liter Tier 2 & Tier 3 | 8245R | John Deere |
| 9.0 Liter Tier 2 & Tier 3 | 8430 | John Deere |
| 88mm Bore Non Turbo | JD1200 | John Deere |
| 88mm Bore Non Turbo | JD1400 | John Deere |
| 88mm Bore Non Turbo | JD1220 | John Deere |
| Piston (M) RE532136 | 5715 | John Deere |
| Piston (M) RE532136 | 5725 | John Deere |
| Piston (M) RE532136 | 3410 | John Deere |
| Piston (M) RE532136 | 3410X | John Deere |
| Piston (M) RE532136 | 4890 | John Deere |
| Piston (M) RE532136 | 5425N | John Deere |
| Piston (M) RE532136 | 5415 | John Deere |
| Piston (M) RE532136 | 5510N | John Deere |
| Piston (M) RE532136 | 5425 | John Deere |
| Piston (M) RE532136 | 5520N | John Deere |
| Piston (M) RE532136 | 5510 | John Deere |
| Piston (M) RE532136 | 5525N | John Deere |
| Piston (M) RE532136 | 5520 | John Deere |
| Piston (M) RE532136 | 5625N | John Deere |
| Piston (M) RE532136 | 5525 | John Deere |
| Piston (M) RE532136 | 5615 | John Deere |
| Piston (M) RE532136 | 5625 | John Deere |
| Con Rod (M): R80034 | 350D | John Deere |
| Liter Designated | 455E | John Deere |
| Late, Con Rod (M): R63959 | 855 | John Deere |
| Piston (M) RE515037 Tier 2 & Tier 3 | 455G | John Deere |
| Large Pin | 450G | John Deere |
| Piston (M) RE55512, RE505102 | 555G | John Deere |
| High Compression Piston. To ESN 199,999. Tier 1 | 850 C-II | John Deere |
| Liter Designated | 755 | John Deere |
| Piston (M) RE515037 Tier 2 & Tier 3 | 550H | John Deere |
| Con Rod (M): R80034 | 355D | John Deere |
| Liter Designated | 455G | John Deere |
| Piston (M) RE59279, RE505101 | 450H | John Deere |
| Piston (M) RE515037 Tier 2 & Tier 3 | 550G | John Deere |
| Large Pin | 455E | John Deere |
| Piston (M) RE55512, RE505102 | 650G | John Deere |
| High Compression Piston. To ESN 199,999. Tier 1 | 850 J | John Deere |
| Liter Designated | 755A | John Deere |
| Piston (M) RE515037 Tier 2 & Tier 3 | 555G | John Deere |
| O'rings On Liner, Con Rod (M): RE19733 (SUB FOR AT18005), To ESN 158,257 | 450 | John Deere |
| Liter Designated | 550 | John Deere |
| Piston (M) RE59279, RE505101 | 550H | John Deere |
| Piston (M) RE515037 Tier 2 & Tier 3 | 550H | John Deere |
| Large Pin | 455G | John Deere |
| Piston (M) RE521616 Tier 2 & Tier 3 | 450G | John Deere |
| High Compression Piston. To ESN 199,999. Tier 1 | 850J | John Deere |
| O'rings On Liner, Con Rod (M): T20007 R81410 | 350A | John Deere |
| Liter Designated | 755B | John Deere |
| Piston (M) RE515037 Tier 2 & Tier 3 | 650G | John Deere |
| Small Pin, O'rings On Block, Con Rod (M): T20007, R81410, To ESN 275,483 | 450A | John Deere |
| Liter Designated | 550A | John Deere |
| Piston (M) RE59279, RE505101 | 650H | John Deere |
| Piston (M) RE515037 Tier 2 & Tier 3 | 555G | John Deere |
| Liter Designated | 450E | John Deere |
| Piston (M) RE521616 Tier 2 & Tier 3 | 455G | John Deere |
| Piston (M) RE532136 | 450H | John Deere |
| O'rings On Liner, Con Rod (M): T20007 R81410 | 350B | John Deere |
| Liter Designated | 755BMIL | John Deere |
| Piston (M) RE507758 Tier 2 & Tier 3 | 450G | John Deere |
| Small Pin, O'rings On Block, Con Rod (M): T20007, R81410, To ESN 275,483 | 450B | John Deere |
| Liter Designated | 550B | John Deere |
| Piston (M) RE59277, RE505100 | 450H | John Deere |
| Piston (M) RE515037 Tier 2 & Tier 3 | 650G | John Deere |
| Liter Designated | 450G | John Deere |
| Piston (M) RE521616 Tier 2 & Tier 3 | 550G | John Deere |
| Piston (M) RE532136 | 550H | John Deere |
| O'rings On Block, Con Rod (M): T20007, R81410, From ESN 154,766 | 350A | John Deere |
| Con.Rod (M) R71074 (P/N AR93341) | 850B | John Deere |
| Piston (M) RE507758 Tier 2 & Tier 3 | 455G | John Deere |
| Large Pin, O'rings On Block, Con Rod (M): R51727, R80034, From ESN 275,484 | 450C | John Deere |
| Liter Designated | 550G | John Deere |
| Piston (M) RE59277, RE505100 | 550H | John Deere |
| Piston (M) RE59277, RE505100 | 700H | John Deere |
| Liter Designated | 455E | John Deere |
| Piston (M) RE521616 Tier 2 & Tier 3 | 550H | John Deere |
| Piston (M) RE532136 | 650H | John Deere |
| O'rings On Block, Con Rod (M): T20007, R81410, From ESN 154,766 | 350B | John Deere |
| Con Rod (M) R71074 (P/N AR93341) | 850B | John Deere |
| Piston (M) RE507758 Tier 2 & Tier 3 | 550G | John Deere |
| Large Pin, O'rings On Block, Con Rod (M): R51727, R80034, From ESN 275,484 | 450D | John Deere |
| Liter Designated | 555 | John Deere |
| Piston (M) RE59277, RE505100 | 650H | John Deere |
| Piston (M) RE59277, RE505100 | 700J | John Deere |
| Piston (M) RE521616 Tier 2 & Tier 3 | 555G | John Deere |
| Small Pin, O'rings On Block, Con Rod (M): T20007, R81410, To ESN 179,601 | 350B | John Deere |
| High Ring Piston, Con Rod (M): R71074 (P/N AR93341) | 850C | John Deere |
| Piston (M) RE507758 Tier 2 & Tier 3 | 550H | John Deere |
| Large Pin, O'rings On Block, Con Rod (M): R51727, R80034, From ESN 275,484 | 455D | John Deere |
| Liter Designated | 555A | John Deere |
| Piston (M) RE55512, RE505102 | 450G | John Deere |
| Piston (M) RE55512, RE505102 | 850G | John Deere |
| Liter Designated | 655A | John Deere |
| Piston (M) RE521616 Tier 2 & Tier 3 | 650G | John Deere |
| Large Pin, O'rings On Block, Con Rod (M): RE19733 (SUB FOR AT18005), From ESN 179,602 | 350B | John Deere |
| Mid, Con Rod (M): R63959 | 850 | John Deere |
| Piston (M) RE507758 Tier 2 & Tier 3 | 555G | John Deere |
| Con Rod (M): R80034, Piston (M): RE30250 | 400G | John Deere |
| Liter Designated | 555B | John Deere |
| Piston (M) RE55512, RE505102 | 455G | John Deere |
| Piston (M) RE55512, RE505102 | 850J | John Deere |
| Liter Designated | 655B | John Deere |
| Piston (M) RE515037 Tier 2 & Tier 3 | 450G | John Deere |
| Large Pin, O'rings On Block, Con Rod (M): RE19733 (SUB FOR AT18005), From ESN 179,602 | 350C | John Deere |
| Liter Designated | 450E | John Deere |
| Mid, Con Rod (M): R63959 | 855 | John Deere |
| Piston (M) RE507758 Tier 2 & Tier 3 | 650G | John Deere |
| Liter Designated, Con Rod (M): R80034, Piston (M): RE30250, RE18697 | 400G | John Deere |
| Liter Designated | 555G | John Deere |
| Piston (M) RE55512, RE505102 | 550G | John Deere |
| Piston (M) RE521616 Tier 2 & Tier 3 | 850J | John Deere |
| Liter Designated | 750 | John Deere |
| Piston (M) RE515037 Tier 2 & Tier 3 | 455G | John Deere |
| Large Pin, O'rings On Block, Con Rod (M): RE19733 (SUB FOR AT18005), From ESN 179,602 | 350D | John Deere |
| Liter Designated | 450G | John Deere |
| Late, Con Rod (M): R63959 | 850 | John Deere |
| Piston (M) RE515037 Tier 2 & Tier 3 | 450G | John Deere |
| Large Pin | 450E | John Deere |
| Liter Designated | 650G | John Deere |
| Piston (M) RE55512, RE505102 | 550H | John Deere |
| High Compression Piston. To ESN 199,999. Tier 1 | 850 C | John Deere |
| Liter Designated | 750B | John Deere |
| Piston (M) RE515037 Tier 2 & Tier 3 | 550G | John Deere |