Caterpillar Engine & Engine Spare parts
IZIPART is your one stop shop for a complete range of OEM and aftermarket CAT Diesel Engines parts and Equipment. Caterpillar is one of the world's largest manufacturer of Engines for Construction Diesel Engines,  Marine, Oil & Gas, Industrial (Construction & Mining) and Energy industries.
An extensive range of spare parts are available for the following models of Caterpillar/ CAT engines: CAT 3056, C7, C7 ACERT, C9 ACERT, C12, C12 Acert, C18 Acert, C32 Acert, 3508, 3508B, 3508C, 3512, 3512B, 3512C, 3516, 3516B, 3516C, C175-16, C280-6, C280-8, C280-12, CAT C280-16. For CAT Generators: CAT C1.5, C2.2, C4.4, C6.6 ACERT, C9, C18 ACERT, C32 ACERT, 3508B, 3512B, 3516B, C280-6, C280-8, C280-12, CAT C280-16. Caterpillar® auxiliary engines: CAT C9, C18, C32, 3500 Series, 3500B Series, 3500C Series, CAT C280 Series. In addition to the Caterpillar® items listed on our Industrial Engine Marketplace, we can source others upon request. If the part you need isn't shown, ask us to find it for you.
These CAT Industrial Engines are found in agricultural, construction, marine, truck & bus and mining industries. Our range of spare parts and components include parts such as Pistons, Ring sets, Crankshafts, Camshafts, Oil and Water Pumps, Injectors, Gaskets, Seals, and more for CAT New/Reconditioned Diesel Engines & Parts.
CAT diesel engines spare parts and equipment can be found in various construction and industrial machinery equipment. These would include: Backhoes, Dozers, Dump trucks, Excavators, Forklifts, Mobile cranes, Pavers, Road construction equipment, Tractor unit for ports and distribution centers.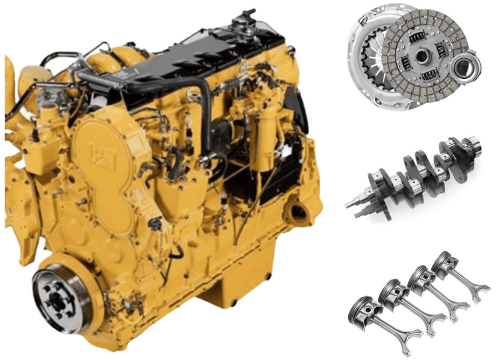 CAT Industrial diesel New/Reconditioned engines parts and equipment have a wide range of direct replacement starters, alternators, water pumps, generators and other Diesel Engines parts
CAT DRAGLINE PARTS

CAT WHEEL LOADER PARTS

CAT FORWARDER PARTS

CAT COMPACTOR PARTS

CAT DRILL PARTS

CAT EXCAVATOR

CAT DOZER PARTSs

CAT SKIDDER PARTS

CAT BACKHOE LOADER PARTS

CAT FORKLIFT PARTS

CAT SKID STEER LOADER PARTS

CAT ASPHALT PAVER PARTS

CAT TELEHANDLER PARTS
Piston Rings

Crankshafts

Cylinder heads

Bearing

Oil and Water pumps

Coolers

Turbochargers

Manifolds

Drive belts

Gasket sets
Get a Free Quote
Our technical team will answer any questions about your customised request.
| Spare Part | BRAND | INDUSTRY |
| --- | --- | --- |
| Cylinder Head | Caterpillar | Industrial Engines, Construction Engines, Marine Diesel Engines |
| Cylinder Block | Caterpillar | Industrial Engines, Construction Engines, Marine Diesel Engines |
| Crankshaft | Caterpillar | Industrial Engines, Construction Engines, Marine Diesel Engines |
| Bearings | Caterpillar | Industrial Engines, Construction Engines, Marine Diesel Engines |
| Fuel System | Caterpillar | Industrial Engines, Construction Engines, Marine Diesel Engines |
| Gaskets | Caterpillar | Industrial Engines, Construction Engines, Marine Diesel Engines |
| Pistons | Caterpillar | Industrial Engines, Construction Engines, Marine Diesel Engines |
| Turbo | Caterpillar | Industrial Engines, Construction Engines, Marine Diesel Engines |
| Discs | Caterpillar | Industrial Engines, Construction Engines, Marine Diesel Engines |
| Cooling System | Caterpillar | Industrial Engines, Construction Engines, Marine Diesel Engines |
| Electrical | Caterpillar | Industrial Engines, Construction Engines, Marine Diesel Engines |
| Valves | Caterpillar | Industrial Engines, Construction Engines, Marine Diesel Engines |
| Engine Overhaul Kits | Caterpillar | Industrial Engines, Construction Engines, Marine Diesel Engines |
| C7 Diesel Engine | Caterpillar | Industrial Engines, Construction Engines, Marine Diesel Engines |
| C9 Diesel Engine | Caterpillar | Industrial Engines, Construction Engines, Marine Diesel Engines |
| C12 Diesel Engine | Caterpillar | Industrial Engines, Construction Engines, Marine Diesel Engines |
| C13 Diesel Engine | Caterpillar | Industrial Engines, Construction Engines, Marine Diesel Engines |
| C15 Diesel Engine | Caterpillar | Industrial Engines, Construction Engines, Marine Diesel Engines |
| C18 Diesel Engine | Caterpillar | Industrial Engines, Construction Engines, Marine Diesel Engines |
| C27 Diesel Engine | Caterpillar | Industrial Engines, Construction Engines, Marine Diesel Engines |
| 3116 Diesel Engine | Caterpillar | Industrial Engines, Construction Engines, Marine Diesel Engines |
| 3126 Diesel Engine | Caterpillar | Industrial Engines, Construction Engines, Marine Diesel Engines |
| 3176 Diesel Engine | Caterpillar | Industrial Engines, Construction Engines, Marine Diesel Engines |
| 3306 Diesel Engine | Caterpillar | Industrial Engines, Construction Engines, Marine Diesel Engines |
| 3406 Diesel Engine | Caterpillar | Industrial Engines, Construction Engines, Marine Diesel Engines |
| 3204 Diesel Engine | Caterpillar | Industrial Engines, Construction Engines, Marine Diesel Engines |
| 3280 Diesel Engine | Caterpillar | Industrial Engines, Construction Engines, Marine Diesel Engines |
| 3306 Diesel Engine | Caterpillar | Industrial Engines, Construction Engines, Marine Diesel Engines |
| 3408 Diesel Engine | Caterpillar | Industrial Engines, Construction Engines, Marine Diesel Engines |
| 3412 Diesel Engine | Caterpillar | Industrial Engines, Construction Engines, Marine Diesel Engines |
| D379 Diesel Engine | Caterpillar | Industrial Engines, Construction Engines, Marine Diesel Engines |