Updates made to the John Deere 310SL Backhoe
Hizbullah Shoukat January 5, 2021 No Comments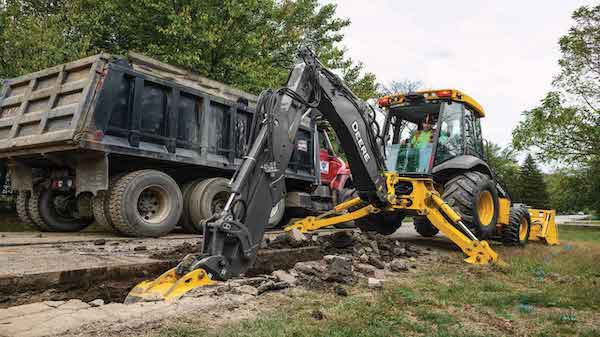 To cater to the demands of customers seeking more productivity and efficiency out of their machines, John Deere has rolled out a series of updates for the John Deere 310SL backhoe. This is a part of its revamp of all L-Series backhoes, which includes engine upgrades, new pressure-compensated load-sensing hydraulics, and machine control improvements.
"We are committed to continuously improving our equipment to offer our customers more value out of their machines," said Brian Hennings, product manager, John Deere Construction & Forestry. "With these upgrades, we are directly addressing our customers' needs. These upgrades build upon the best features found on the L-Series machines, resulting in a lineup designed to power through the toughest jobs."
Let's take a look at some of the updates that pertain to the John Deere 310SL backhoe and what customers can now expect out of the machine. IZIPART offers parts and engines for John Deere.
Additional Engine Power
The John Deere 310SL backhoe is equipped with an FT4/Stage IV John Deere PowerTech EWL 4045 engine. When compared to previous models, this machine boasts more power, torque, and reliability. Furthermore, its two-valve cylinder-head, wet-sleeve design with replaceable cylinder liners provides uniform cooling.
PowerShift Transmission
This backhoe comes with John Deere PowerShift transmission, which allows for on-the-go gear changes. AutoShift also automatically shifts the transmission to the appropriate gear based on engine rpm and ground speed.
Boosted Lift Mode
Lift mode on the John Deere 310SL backhoe provides an additional boost of 10% to 15%. To achieve this, all operators have to do is press a button on their sealed-switch module to set the engine rpm at 1,400 and maximize hydraulic pressure for more lift capacity.
Ride Control
The optional Ride Control feature gets rid of the need to manually turn the feature on and off during load and carry operations. When it is activated, front loader cylinders function as a shock absorber to smooth the ride on rough terrain.
Mechanical Front Wheel Drive
With limited-slip mechanical front-wheel drive, operators don't have to concern themselves with traction as they work. It can be engaged with the touch of a button on the loader control.
Comfortable Cab and Controls
L-Series pilot towers give operators plenty of legroom and space. The palm-on-top loader-control grip is comfortable and simple to use, and the John Deere 310SL backhoe's redesigned loader-lever linkage reduces resistance.
source: https://blog.machinefinder.com/31615/updates-john-deere-310sl-backhoe