Tobacco Knives, Garniture Tape and Carbide Tools
Hizbullah Shoukat August 4, 2021 No Comments
Whether you're an end user or original equipment manufacturer (OEM), IZIPART will work with you to deliver the most efficient cutting solutions. We offer cutting blades for virtually every stage of tobacco processing as well as for filter cutting, film slitting and packaging of cigarettes, cigars and other products. Our tobacco cutting knives are designed with the materials, tooth patterns and other attributes to fit your specific cutting needs. What IZIPART Offer's is Reliable performance, Durability and resilience, Stability and consistency, Competitive Prices, High Quality Material and Planned Production

Within our range you'll find:
We provide primary tobacco processing blades for just about any machine or applications. Our straight tobacco cutting knives come in materials such as M-2, solid carbide, stainless steel and others and can be configured for cutting, chopping and dicing.
Our cutoff blades or "guillotine knives" are ideal for packaging, converting and processing of tobacco products. We offer filter cutting knives with a swing-style operation that stay sharp to continue to provide precision results.
From slitting film to packaging and paper, our band knives are manufactured to get the job done right. Band knives and toothless band saws can be custom produced with lead times 50 to 70 percent faster than other suppliers.
If you're looking for a custom edge for tray forming, packaging and converting tasks, York Saw and Knife has you covered. We provide tray knife solutions tailored to your specific industry.
Cutting Blades, Filter Cutting Blades, Packaging Knives
Hauni, Molins, GD, Decoufle, Sasib, Garbuio, Dickinson Legg, ITM, Comas, Kunming
Knife Categories By Material:
HSS (High Speed Steel), Tungsten Carbide, Ceramic
Commonly Used Knives, Circular Knives (Round Knives), Molins Cork Knives, GD Cork Curling Bars, GD Cork Knives, Hauni Cork Knives, Hauni Tipping Knives, Filter Cutters, Final Cut Knives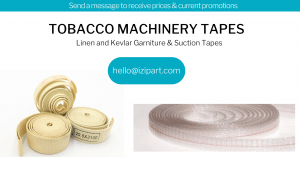 Garniture Tape & Suction Tapes made with Linen, Kevlar and Polyester.
You may use the size guides provided in the tables to cross-reference with your specific machine.  Alternatively, you can request bespoke tape sizes according to your unique requirements.  
What type of Garniture tape or Suction tape do I need?
The tape you require will depend upon:-
– Machine Brand (GD, Hauni, Focke etc & Speed of the machines
– Paper used 
– Operating Conditions
We can provide a wide range of garniture tapes for the production of filters and cigarettes and suction tapes for the transport of tobacco during the production of cigarettes.
The use of the best quality materials and careful checks in any step of the production assure the maximum regularity and precision.
The tapes are individually packed and they are suitable for machines with low, medium and high speed.