Reinventing Manufacturing in 2020
Hizbullah Shoukat February 2, 2020 No Comments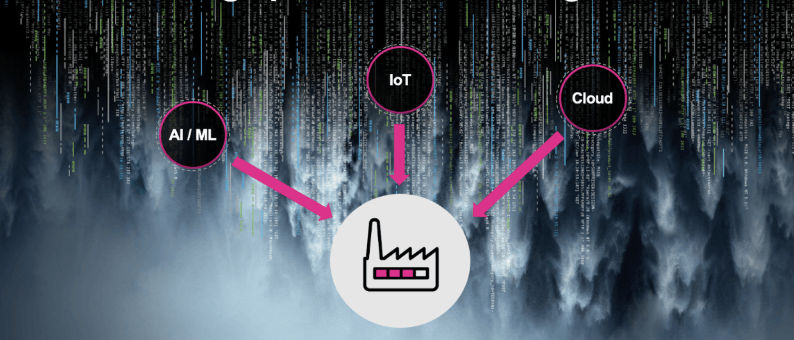 Generally, 2009 to 2019 were 10 golden years for manufacturers worldwide. After the swift recovery from the economic and financial crisis in 2008/09, many manufacturers have been enjoying double-digit order intake growth, increasing revenues and profits for over a decade.
German manufacturers, in particular, benefitted from an unprecedented peak in 2018. Volkswagen delivered a record-high number of 11 million cars and grew its revenues to 236 billion euros, the highest revenue ever in its long history. The "German Mittelstand" also rode the wave, expanding production capacity and the number of employees to record heights.
Additionally, the global manufacturing Purchasing Managers' Index (PMI) has been almost consistently above 50 over the last decade, meaning an expansion of manufacturing activities.
Spoiled by Unprecedented Good Business During the Past Golden Decade, Some Manufacturers Were Too Busy to Embrace Digital Change
In this time period, Industry 4.0 and IoT evolved, and data-savvy manufacturers started to reap the fruits of predictive maintenance in forms of cost savings and increased uptime.
However, the economic boom had its downsides for some manufacturers. Overwhelmed by good business, they were stressed processing the inflowing order storms, managing additional shifts and struggling to find skilled labor in the face of an ageing workforce. Many manufacturing executives simply had no time to address digital transformation initiatives or explore new technologies and digital business models in anticipation of the new data driven era.
Now, at the start of 2020, the economic climate and outlook has changed. Manufacturers in many countries are facing a slowing economy and numerous geo-political uncertainties. Automotive OEMs in particular are fighting structural changes in parallel. In Germany, the rise of electric cars is leading to mass retrenchments in the automotive industry. A large German automotive OEM, for example, announced to cut at least 10,000 jobs. At the same time, experts for combustion engines are becoming obsolete whereas data specialists for connected cars are in high demand.
This stalling growth gives manufacturing breathing space to reorganize and retool for a data driven future. It is time to reinvent and stop doing business as usual. Data is shaking up the manufacturing world — more than ever. It is not about technical gimmicks or "nice to haves" but more about an "in or out," some even say "evolve or die." The digital divide in manufacturing will determine future competitiveness and even survival.
Data is Shaking Up the Manufacturing World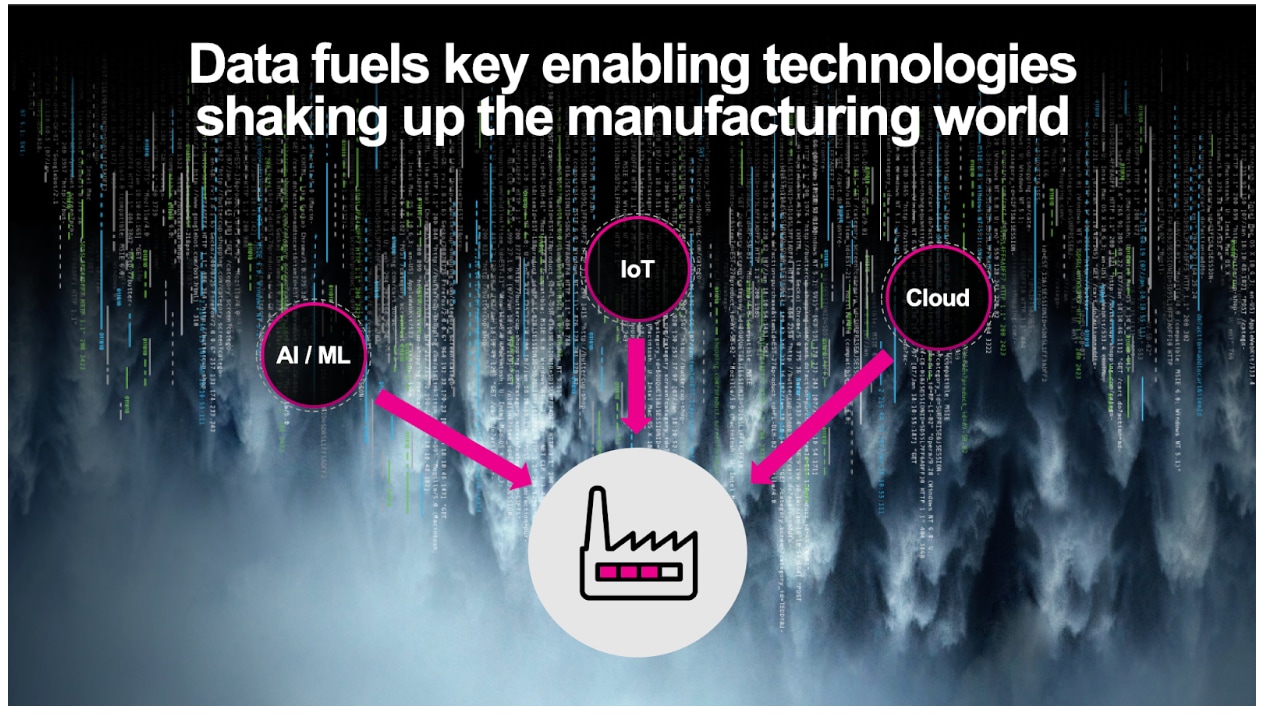 Manufacturing never stops evolving with new ideas, new technologies and new processes. However, the main difference to former advancements is that data — in fact, massive data flows — is fueling key enabling technologies such as IoT, artificial intelligence (AI), machine learning (ML) and cloud computing, which are all closely interconnected. The following points highlight how data drives critical success factors in the manufacturing business and why manufacturing leaders should embrace it.
Data Fuels IoT, Driving Improved Availability and Performance of Industrial Assets
In an era where agility is a key business success factor, it has become imperative for manufacturers to embrace data. Data makes it possible to shift operations from reactive to proactive, minimizing unplanned downtime and avoiding unnecessary costs.
Real-time visibility across operations by combining and correlating IoT, sensor, application, infrastructure and IT data in order to predict and prevent failures has become a must-have for any competitive manufacturing organization. Building custom visualizations and metric dashboards and setting real-time alerts without the need for programming empowers non-technical users to access manufacturing data directly. Predicting and preventing critical manufacturing problems with a unified monitoring experience further increases productivity, efficiency and user friendliness. In addition, data helps to optimize manufacturing processes and as such will pave the way for 'lot size one' customizations.
With such positive impacts, it is not surprising that the forecasted number of 8.3 billion IoT devices globally has been beaten by reality: There were roughly 9.5 billion connected IoT devices at the end of 2019, according to IoT Analytics.
Data Fuels AI and ML, Driving Improved Predictions and Smart Manufacturing
According to the latest worldwide market study by ABI Research, the total installed base of AI-enabled devices in industrial manufacturing will reach 15.4 million in 2024 — with a CAGR of 65% from 2019 to 2024.
There is no question that AI and ML are furthering the advanced analytics landscape with concepts like deep learning, which utilizes the mathematics of neural nets algorithms. Most importantly, it's not about complex statistical gimmicks but about the concrete value such solutions provide in an industrial context. For example, AI can be helpful guiding shop floor workers in uncertain and even dangerous situations. ML can sort mountains of temperature and vibration data to detect anomalies without the need to be explicitly programmed (unsupervised ML).
In the future, Smart Manufacturing based on AI and ML will give industrial companies unprecedented manufacturing powers. A predicted malfunction will no longer be an "issue" but will be  taken care of by AI tools in an automated process flow. No longer limited by human experience, not only the "Known Knowns" but also the "Unknown Unknowns" will be tackled autonomously.
Data Fuels Cloud, Driving Business Agility and Innovation
It is no secret that manufacturers used to be very hesitant, even outright rejectful when it came to the question of cloud adoption. They were concerned with inconsistent and limited connectivity in industrial environments and IP issues regarding sensitive production know-how.
However, the situation has changed: Globally, companies in discrete and process manufacturing have already spent $35 billion on public cloud services which translates into a 15% share of the total $229 billion cloud market in 2019, according to IDC. Overall, the research firm predicts that worldwide public cloud services spending will more than double to nearly $500 billion by 2023. This growth is fuelled by a massive data explosion in manufacturing. Imagine running a digital supply chain globally without using the cloud — it is simply not possible.
Cloud helps manufacturers to improve their business agility, meaning their ability to respond to fast changing business challenges, react to market opportunities and get their products to market faster. Most importantly, cloud fosters innovation with new cloud based XaaS business models such as Product-as-a-Service.
Manufacturing 2020 and Beyond
A new decade brings a new wave of industrial transformation — and unprecedented opportunities for data savvy manufacturing leaders. In a rapidly digitizing world, data is at the root of every opportunity, and essential to solving every manufacturing challenge. With the new awareness for climate change, manufacturers are even in the spotlight when it comes to achieving environmental goals such as reducing energy consumption and carbon footprint.
(via: https://www.splunk.com, accessed 2/2/20)