GD Tobacco making & packing machine spare parts
Hizbullah Shoukat January 12, 2021 No Comments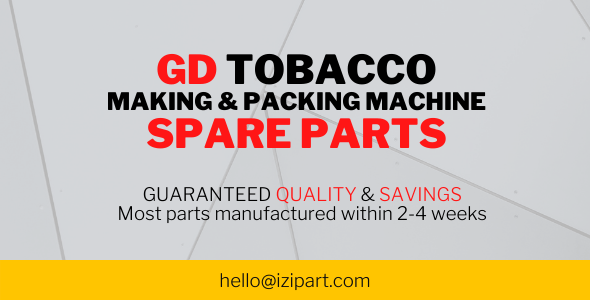 Equipment Modernization
G.D s.p.A portfolio of solutions enhances the value of operating equipment by installing the latest technological features on existing equipment or bringing old equipment as close as possible to a new machine's conditions.
Customers are provided with different solutions of sizes/formats to run additional products on the same equipment. Moreover equipment control system can be upgraded to the latest technological standards, solving at the same time any potential obsolescence risk.
Upgrades & Kits
G.D's constant collaboration with its customers has made it possible to develop up-grade kits focused on improving the performance of G.D machines.
Furthermore, innovative solutions developed for new generation machines, can be extended to serve the wide range of previously installed G.D machines.
The variety of materials, coupled with G.D commitment to progressively reducing the cost of materials while simultaneously maintaining the high-quality finished products that distinguish the company, all require that advanced and more flexible technical solutions can be feasibly retrofitted even onto existing machines. 
Size and Change Over Parts
G.D cigarette making and packing machines can be adapted, even with retrofitted parts, to suit a wide array of formats and size-groups, and keep up with an ever-changing market.
Size-group changes include:
Variations in cigarette or pack size, including slim and super slim
Variations in the number and/or collation of cigarettes in the pack and relative size adjustments
Change from standard to special packs
Use of different packaging materials.
WHAT IZIPART OFFERS?
IZIPART offers global supply options on one platform. We deal with genuine, aftermarket and OEM G.D s.p.A spare parts and machines. With over an inventory of over 40,000 G.D spA spare parts, we offer global supply options for OEM, Genuine and aftermarket high quality mechanical, electrical, electronical, and standard spare parts for GD making machines available. We supply parts and the machines for GD (AF12, GD 121, GD x1, x2,x3,x6 and more mentioned below). For Cigarette Packing/Making Machines. Wear and tear metal parts for GD s.p.A machines.
Via IZIPART we were able to access multiple supply solutions for an urgent spare part quickly and easily. The communication and purchase process was simple and transparent. We will definitely use IZIPART next time!

Al Fakher, UAE

By:Head of Maintenance & Procurement
Find below a list of some of the machines IZIPART can supply spare parts and the machine itself for: 
(note: We provide more than what is listed below)
GD Hard Box Packing Machines
GD Soft & Hard Cup Packing Machines
G.D & ITM Group Cigarette Manufacturing Machines
(source: https://www.gidi.it/en/services/equipment-modernization)