6 Cycliner Perkins engines
Hizbullah Shoukat November 30, 2021 No Comments
The 6 cylinder option in the Perkins® 1100 Series, the 1106 range, delivers the power you need for earth moving and construction all the way through to agricultural use and warehousing. Engines in the range meet EU Stage II/Stage III and U.S. EPA Tier 2/Tier 3 equivalent emissions standards.
The 6 cylinder Perkins 1106 range of diesel engines gives you 7.1 litres of turbocharged aftercooled power. With an impressive power band of 112-205 kW (150-275hp) the engines are your powerhouse – whatever your requirements.
Whether you need an engine with the power to handle the demanding jobs of earth moving and construction, an engine to work on the land or a host of other critical, power hungry applications, there's an 1106 engine for you.
The 1106 engines have been specifically designed for use in territories with Stage II/IIIA and Tier 2/3 equivalent emissions standards, using the best technologies to ensure a reliable and easy to maintain machine. We use a turbocharged aftercooled engine to offer the best combination of power delivery and response, while still meeting the emissions standards.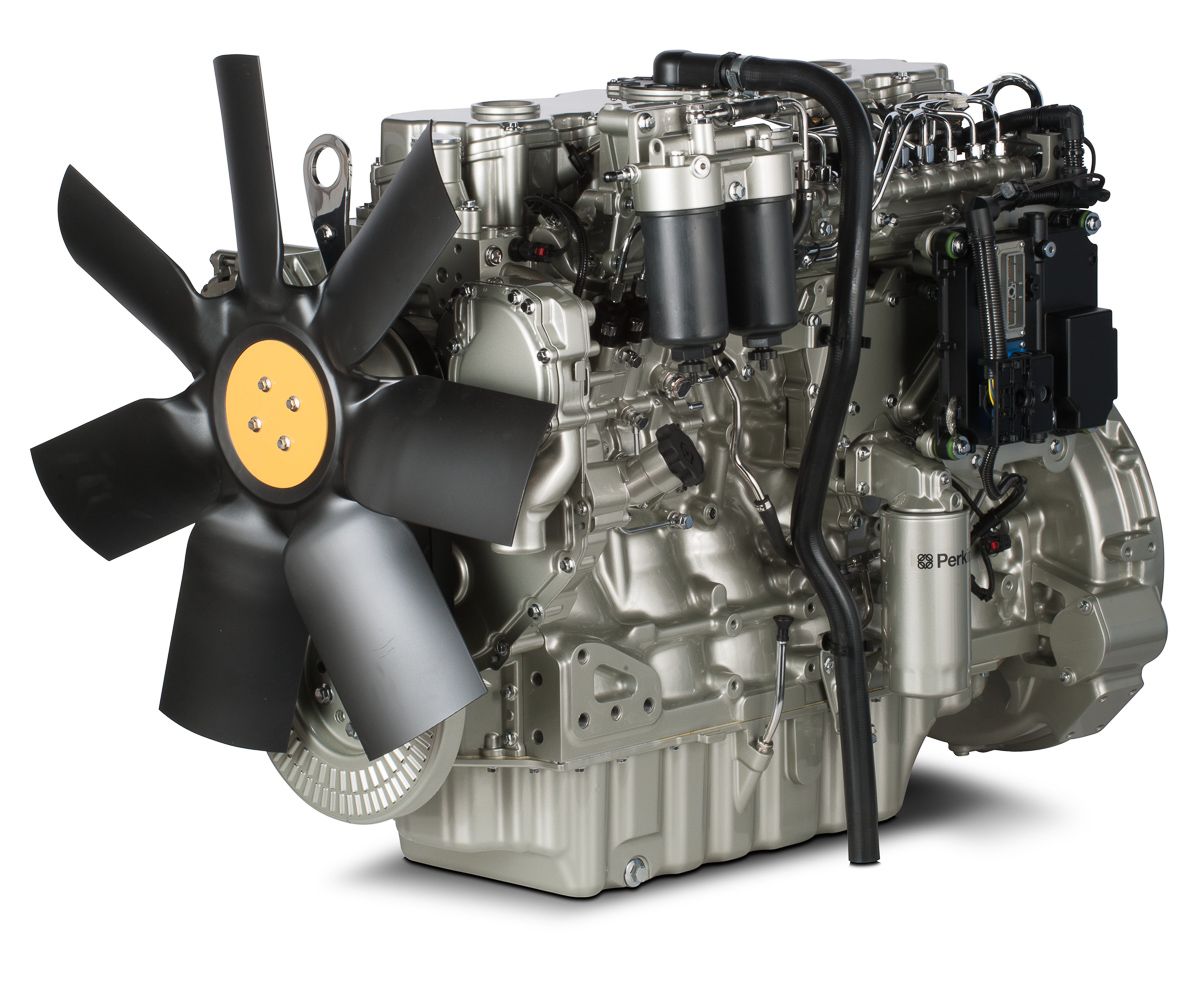 Perkins® 1106 engines. There's a model for you, whatever your needs
Engines in the range also form a common platform with our 1200 Series Stage IV/Tier 4 Final engines. This allows for a more cost-effective transition when you need to upgrade to the next emissions level.
Electronic or mechanical engine?
There's also a choice of mechanically or electronically controlled engines depending on the power output required and your application. Choosing a robust, electronically controlled common rail engine provides the opportunity to increase power and low speed torque, while maintaining displacement volume, and still achieving the emissions standards. Learn more about electronic engine control versus mechanical.
High quality oil and fuel filtration used across our 1100 Series produces an engine that is reliable and durable. Ecoplus fuel filtration is also available to boost its clean running qualities.
Fuel tolerance
Our 1106 engines can cope with variations in fuel quality that occur in different parts of the world. They are also capable of running on a wide range of global fuels, including biodiesel.
Electric power
The 6 cylinder, 7.1 litre 1106 range of ElectropaK engines gives you all the power you need for electric power generation. The engines give 135-250 kVA generator output and are designed for life, engineered without compromise and built for instant response with thousands of hours of dependable running, regardless of the environment or location.
There are variants in the range that feature mechanical and common rail fuel system technologies. Their trusted performance is borne out of thousands of hours of validation in the real world, working with electric power providers who value the reputation and expertise of an engine manufacturer that is focused on delivering the right technology solutions to meet your requirements.
The 1106 EP range features exceptional performance criteria in fuel economy for prime power applications and high load acceptance for standby installations. This is backed up by the capability to perform in high ambient temperatures with low noise output, making packaging easy for all environments.
---
Fast facts
---
6 cylinders
7.1 litre displacement
Industrial models meet EU Stage II/Stage III and U.S. EPA Tier 2/Tier 3 equivalent emission standards
Choice of mechanically or electronically controlled engines
Suitable for use around the world as designed to operate with global fuel standards
Our 1106 EP engines give 135-250 kVA generator output and are designed for life
Industrial applications
---
Excavators
Wheeled loaders
Crushers
Motor graders
Rollers
Rock drills
Pavers
Trenchers
Tractors
Irrigation pumps
Harvesters
Combine harvesters
Forest machines
Forklift trucks
Airport baggage trucks
And many more